I recently became a Swirlgear Ambassador (you might have noticed my pretty swirly badge there on the right). One of the appeals to me with this brand is that as you already know, I love clothes. And I love running. So when I came upon Swirlgear, a women's clothing brand made specifically for running, I immediately wanted to check it out.
I ordered my first shipment to arrive by Christmas—my little gift to myself : )
The first piece is this short sleeve number. What caught my eye initially were the black seams along the front. This detail allows for slimming and flattering look. I also liked the uniqueness of the print on the sleeves and sides and I liked the length. When it arrived and I was finally able to put it on, the length was a super plus. I like my shirts a little on the longer side and this fit was absolutely perfect.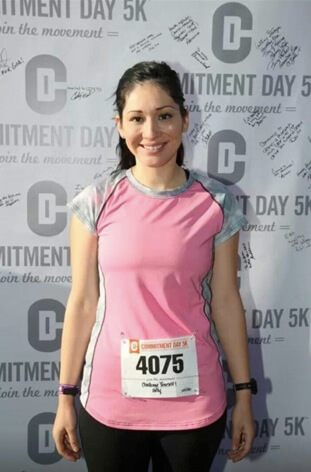 I'm very big on fabric and this moisture-wicking poly blend is super soft to the touch. When I'm running, the last thing I want is an itchy shirt and this top is far from itchy. In fact, it's my softest running shirt to date.
The shirt is tagless which is a running shirt necessity but this also tricked me at first. The top is so good looking inside out that that's how I put it on the first time! It didn't come in the box that way, but as I was inspecting it, I turned it inside out and forgot to fix it. My first run in it was worn that way! Needless to say, I had no issues in my 10 mile run that day : ) (You can see in the first pic the black seam across the collarbone area. It's not there in the second pic when I wore it correctly lol!)
I'm 5'7 and on the curvy side so a size Medium fit perfectly.
My next purchase were these shorts. It's cold out (for Arizona) but I knew I'd get a lot of use of them come spring and summer. The black color is a nice deep black—this is important to me because some "blacks" are lighter than others and that drives me nuts. I also like the white piping along the bottom.
The shorts are also moisture wicking and have built in briefs for support. The logo is reflective which I thought was a nice detail. The shorts do not have pockets. I'm a size 6 and purchased a Medium. Perfect fit.
Both of these together, I must say, make a great running outfit. I have my days when I don't care about looking good while I run but every now and then I like to have a good looking combo to feel pretty in : )
I've washed both of these in a gentle cycle and both washed well. I didn't completely dry them (I don't with any of my running clothes) but took them out about ¾ of the dry cycle and then lay them to completely dry.
I chose to purchase warmer weather items but Salt bought some winter wear and you can read her review of her pieces here.
If you think these clothes are as awesome as I do and are interested in gifting yourself or someone some Swirlgear, you're in luck! Enter the code swirlon at check-out to get FREE GROUND SHIPPING. Yay!!
I'm pretty positive you're going to love this brand. I may not be the best runner out there, but I do feel like I know my clothes : )
Hope you have a fun Friday!!!
NOTE: I did receive these pieces for 50% off as part of the Swirlgear Brand Ambassador program but I purchased them myself and these opinions come solely from me.
–Do you love shopping for running clothes?
–Do you make running "outfits"?