He almost beat me.
No joke.
My brother had trained for this race like a man on a mission so it was expected he'd finish and finish having met his goal, 2:30. But boy, he blew it, and us, away.
I recounted his weight loss journey here, and having lost 60 pounds leading up to race day really gave my brother newfound confidence. He could really see what he and his body were capable of doing.
I was excited to see him in person. He'd sent me numerous pictures but I wanted to see for myself what this new man looked like.
He was there at the airport with my sister waiting for me with a huge smile and as soon as I was close enough, gave me a giant bear hug that was much less bear than before 🙂
They were both hanging out with Flying Pig Volunteers who were welcoming travelers and we of course had to take picture:
I had flown into Cincinnati on Friday and that was planned as we figured we'd go to the Expo from there.
We walked around and really took our time–this was my brother's first Expo after all 🙂 and took a few pictures after picking up our swag (which by the way, was pretty impressive!).
We drove back to Dayton, where my brother and sister live, and enjoyed the rest of our Friday and Saturday making sure we called it an early night.
Race morning, Sunday, we awoke bright and early as we had to drive back to Cincy. My brother-in-law was also running this race (and my sister was supposed to too, but she suffered an injury a few weeks prior 😦 )
The plan was for us to all start in the same corral and then do our thing. I loved this idea as I got to hang out with my brother pre-race and see him start. We chatted and talked a little about the race. My brother in law and sister gave us course details as they'd run the race several times before. My brother then announced that he felt he could beat his goal and really had a secret goal, a Goal A–2:20. He's officially a runner now lol!
We heard the national anthem be played signifying the start of the race and we began moving closer and closer to the start. My brother was getting into race mode, getting his music set up and plugging in his ear phones.
This was really happening.
I was just kinda laying low, watching him, super emotional to see him do this. Really do this.
And as we approached the start line, I called his name to wish him luck….
…and I lost it. I started crying and I hugged him. We parted ways as soon as we crossed because I knew there was no way I'd keep it together.
I knew this was going to be a tough race (for me) because of the hills.
It was a crowded race too and the first few miles were spent navigating through people. I knew the hills would start soon after mile 5 and yup, they were as hard as I imagined them. I did my best to fight my way through them but my pace slowed considerably. I registered an 11:20something on one mile.
But I was having a blast. There was so much to see. So much crowd support. And even though the splits weren't showing it, this was the fastest race in that it all seemed to happened so quickly. Before I knew it, I was at mile 10 going dooooown hill. It was a great final 3.1 and my splits showed it at 8:52, 8:50, and 8:40.
I crossed the finish line at 2:08:19 (9:48/mile) with my goal having been 2:05. I was pleased nonetheless because I had given it all I had on those hills and had really enjoyed myself the entire race.
I was collecting myself as I grabbed my medal when I heard my phone ring. I don't ever run with my phone but did for this race as we would be using it as a way to meet up post race.
It was my brother telling me he was done!
But, but, but, I had just finished!
I quickly looked around as I was still in the finisher's corral and sure enough, there he was! I ran to him and said, "Are you freaking kidding me?!!? You were right behind me!!!"
He had the. hugest. smile. Out of breath, he said, "Those hills had nothing on me!"
Official time: 2:10:36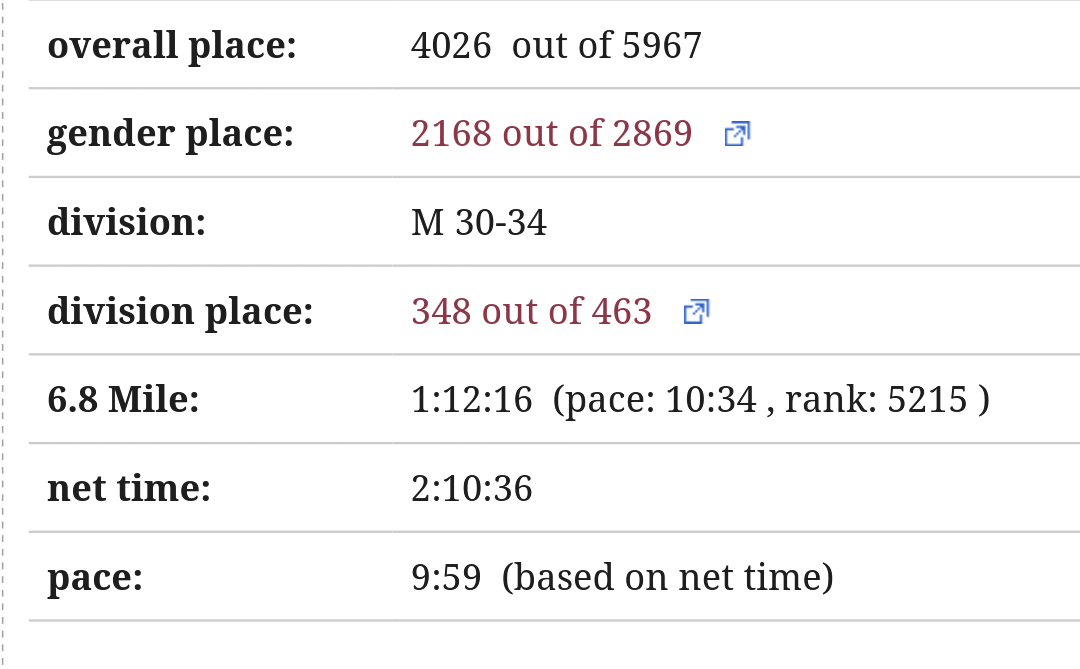 He was two minutes behind me! TWO! And look at that average pace!!!!!
I was in complete disbelief. I seriously cannot explain what I felt when I saw him and when I saw the time he had finished. I just couldn't believe it. He knocked it out of the ballpark!
We took a post race pic as we moved out of the finisher's corral:
But I wish I could have bought ALL the pics of him running during the race. He has a huge smile on all of them and there's one where he's next to this girl who is walking up a hill, and he's charging up it with a look of fierce intensity. It's freaking awesome.
There's one of him giving the camera man thumbs up like the race ain't no thing 🙂
And there's another of him crossing the finish line with arms triumphantly in the air–you can hear his roar as he crosses.
He has so many good ones but there's one of him and I juust when he finished–he's still out of breath, I have a shocked look on my face, and we are both smiling like goofballs. I love it so much.
I think need it.
Before we headed back to the car, I made sure to take a solo pic of him:
And the car ride home was him telling us his race story–how good he felt the entire way. How he started off with a steady pace the first 5 miles and then picked it up when the hills started, making sure he had enough energy to finish strong. He totally knew what he was doing.
All I could really say to him was, "You're a natural."
❤