Wow. All I gotta say is wow.
These past 4 months that I've been running has just been amazing. I ran my last race of the year on Sunday and it. was. awesome.
When I previewed the course, I saw that it was a flat one in the city. Phoenix roads are structured like a grid so the roads are pretty much all straight. This course was basically a rectangle.
My previous 5K PR was 25:44 at my hometown's Turkey Trot. I was hoping that maaaaybe I could set a new PR with the Fiesta Bowl seeing that it was relatively flat and I had a few more weeks of training under my belt.
25:05!!!!
My goal of course was to PR, but I had a secret sub 25 goal way back in my head (Do you ever do that? Have goal you don't tell anyone because it might be slightly unrealistic and you don't want anyone to laugh at you?) Anyway, you better believe I was still thrilled with my time (and my splits!!)
Mile 1: 8:04
Mile 2: 7:59
Mile 3: 8:06
Mile 4: 0:57
The morning was cold (again, Arizona cold) and I was decked out and covered head to toe. About 20 minutes before the race, I ditched the gloves and jacket.
The race was a 5K and ½ marathon and had two different start lines for each with only 5 minutes separating the gun. There were quite a few people confused and standing at the 5K line when they should have been at the ½. I let people I saw in the wrong place know they better get a move on to their correct spot.
The Fiesta Bowl race coordinators had partnered with Girls On The Run because their race had been flooded the month before; this made the start line particularly crowded and there were no corrals. I tried to shimmy my way close to the front as best I could but I still had to dodge around some people at the beginning. It worried me because there were a lot of children in the race and I could see people brushing them as they ran past.
Once I was able to navigate the crowd, I was on it. I looked at my watch to check out my pace and made sure to stay at 8:15 and under. At the time, I couldn't believe that I was even saying that to myself!! "Helly, stay at an 8:15 pace." Seriously, I never thought that would be possible for me!
After the first mile, I felt warmed up and told myself to push a little harder. I had that lofty goal of sub 25 in my head. 7:59. Yes!!
Mile 3. Okay, I was starting to get a little winded. Considering I had never ran this fast in my life, I was hanging in there but I really really wanted to finish strong. It became a mental challenge for sure to keep pace and I managed at 8:06 but I knew that my under 25 goal was likely not going to happen at that point. I ran towards the finish line like a madwoman. It took me a second to pause my Garmin (literally, my official time was 25:05) and I walked towards my run club's tent wanting to collapse.
I looked down at my watch and saw 25:06—soooo close!!! I had to really talk to myself about not getting down on not reaching my secret goal. I was disappointed I was so close and hadn't reached but I kept telling myself, "Helly, you freaking PR'd!!!"
Right in front of my run club's tent were screens with the finisher's times (I think this is pretty cool race feature btw). I kept a close eye to find my name and there I was—48/331, 10th woman overall, and 2nd place in my age group!! That news definitely helped alleviate any sadness I had over not finishing under 25.
It was the perfect ending to the year and leaves me with so much motivation for 2014. You bet I've got a 24 something 5K on my to-do list!! : )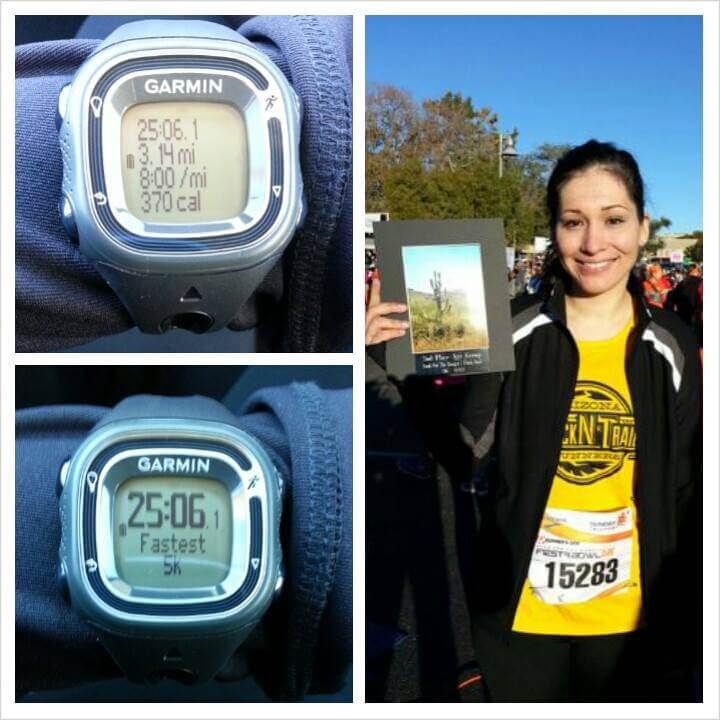 ———————————
The 12 Days of Fitmas
On the 5 th day of Fitmas…
DON'T NEGLECT YOUR CORE
One thing I keep hearing throughout my training is that if you wanted to improve as a runner, you gotta work on your core.
Confession: In my recaps to you, I haven't been completely thorough.
I run and you know that because I write about it but I've also been doing ab videos at home. My buddy Salt, whom I've mentioned before and will again and again, referred me to Blogilates on YouTube for good ab workouts. There is no way I can repay Salt for introducing me to this awesome person that we call Crazy Cassey. (She's the one heading the videos.) They're short, intense, awesome workouts. I'm obsessed. You heard me. I'm obsessed with working out my abs. (Who says that?!?) But seriously, these videos are actually fun, mainly because Crazy Cassey is hilariously entertaining. She has quite an abundance of ab workouts but she also has videos targeting all areas. Do a quick search of Blogilates legs and you'll find a number of options. Same thing for arms.
I'm not too familiar with YouTube and what it has to offer as far as workout videos are concerned, but I do know that these are working for me. I've seen a significant improvement in my running since I've made my core a priority. I know that by continuing to include core work, along with diet and consistency in my training, I'll continue to improve. It's worked for Salt too—check out her abs!!