Well, I'm back and I'm alive!
It was absolutely incredible and I'm sitting on my couch super sore as I write this, lol! Before I get to the amazingness that was crossing the Grand Canyon twice, I just want to relay the "boring" stuff first–what I packed, what I ate, what some of the places I visited are called, etc. Maybe it will be useful for someone planning a trip soon.
Hydration Pack
Okay, as far as what I used to stuff everything in, I used my Ultimate Hydration Wink hydration vest.
This pack is uh-mazing. I wrote about it here. It has a 70 oz reservoir which I refilled several times while I crossed.
I love this pack because it's got a lot of room for storage and it has storage pockets in front for easy access to stuff you'll use regularly (cell phone, gels, etc.)
What Was Inside

-Emergency card and ID
-Cash (for lemonade when we reached Phantom Ranch)
-My glasses (in case something happened to my contacts)
-Chapstick
-Hand sanitizer
-Tissue
-Sunglasses
-Jacket (rolled up when not in use and on outside of pack–see pic above)
-Phone (for pictures-there is no service down there, lol)
-Hiking poles (on outside of pack-you'd be fine w/o poles but they sure do help)
Food
-a small orange
-two tortillas
-4 cookies
-Starburst
-a pickle (packaged)
-pretzels
-large bag of Beef Jerky
-Salt tabs
-2 gels (never used them)
-20oz Gatorade (this was on the outside of the pack where I rolled up my jacket)
I ate all of my food the first day I crossed, but had a lot left over the second as the second day goes a lot faster.
I mentioned that I refilled my reservoir several times. There are water stops along the Canyon that allows for that. It's recommend you bring your own filter but I didn't both times I crossed and was fine.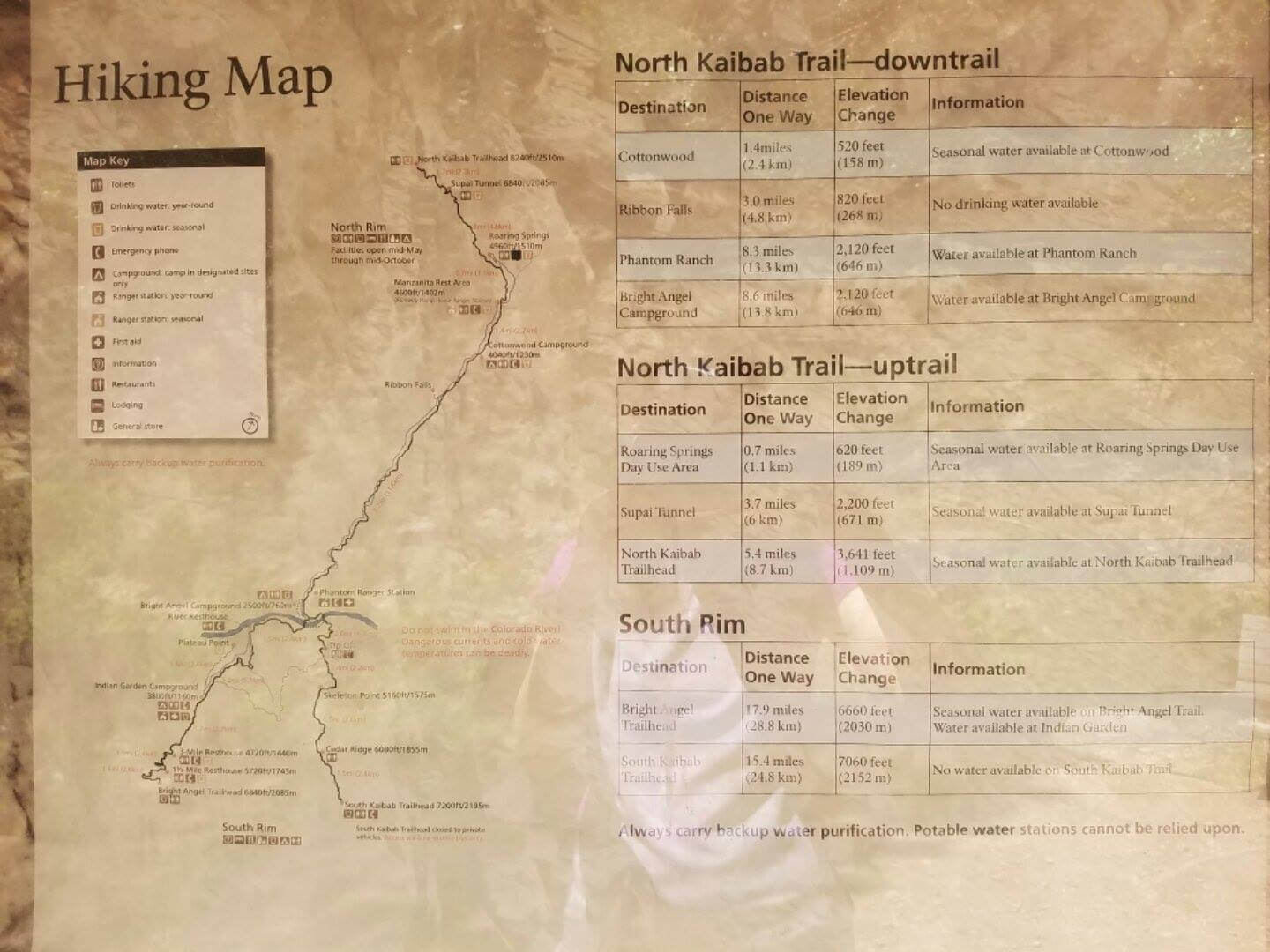 You can see from the map on the left and the key on the right that there are water stops along the way.
What "R2R2R" means
Rim to rim to rim is what R2R2R stands for. It means you go from one rim of the Canyon to the other and back again. You can see there are two routes you can take coming from the South Rim–Bright Angel Trail or South Kaibab Trail.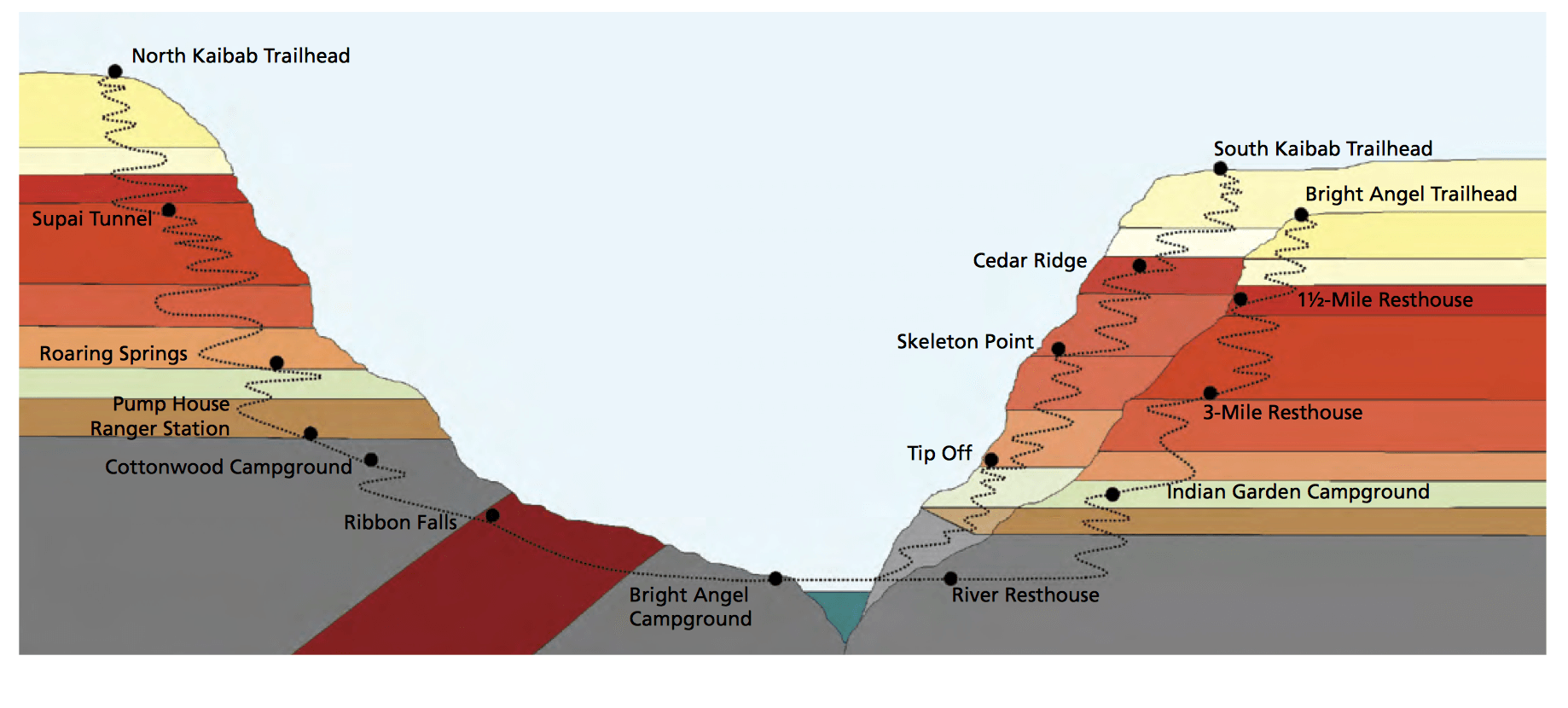 The first day, we went from South Kaibab Trail to North Kaibab Trail with a pit stop at Ribbon Falls and it took us roughly 11 hours. The second day, we went from North Kaibab up through Bright Angel Trail and it took us around 9 hours.
The first day is "hardest" because going up to the North Rim is brutal. The second day is difficult because going up Bright Angel Trail leaves you exposed to the sun for hours. The whole thing is an awesome sufferfest.
Where We Slept
There is a nice lodge/motel at the South Rim near the entrance to Bright Angel Trail. We stayed there Saturday night before we started the first day Sunday morning. The rooms were like a regular motel and very comfortable. They had a "cafeteria" type-esque place to eat with different types of food–Mexican, Pasta, Grilled.
At the North Rim, we stayed at a little cabin at the Grand Canyon Lodge. They have a restaurant where you can eat and also a smaller "deli". We ate at the deli.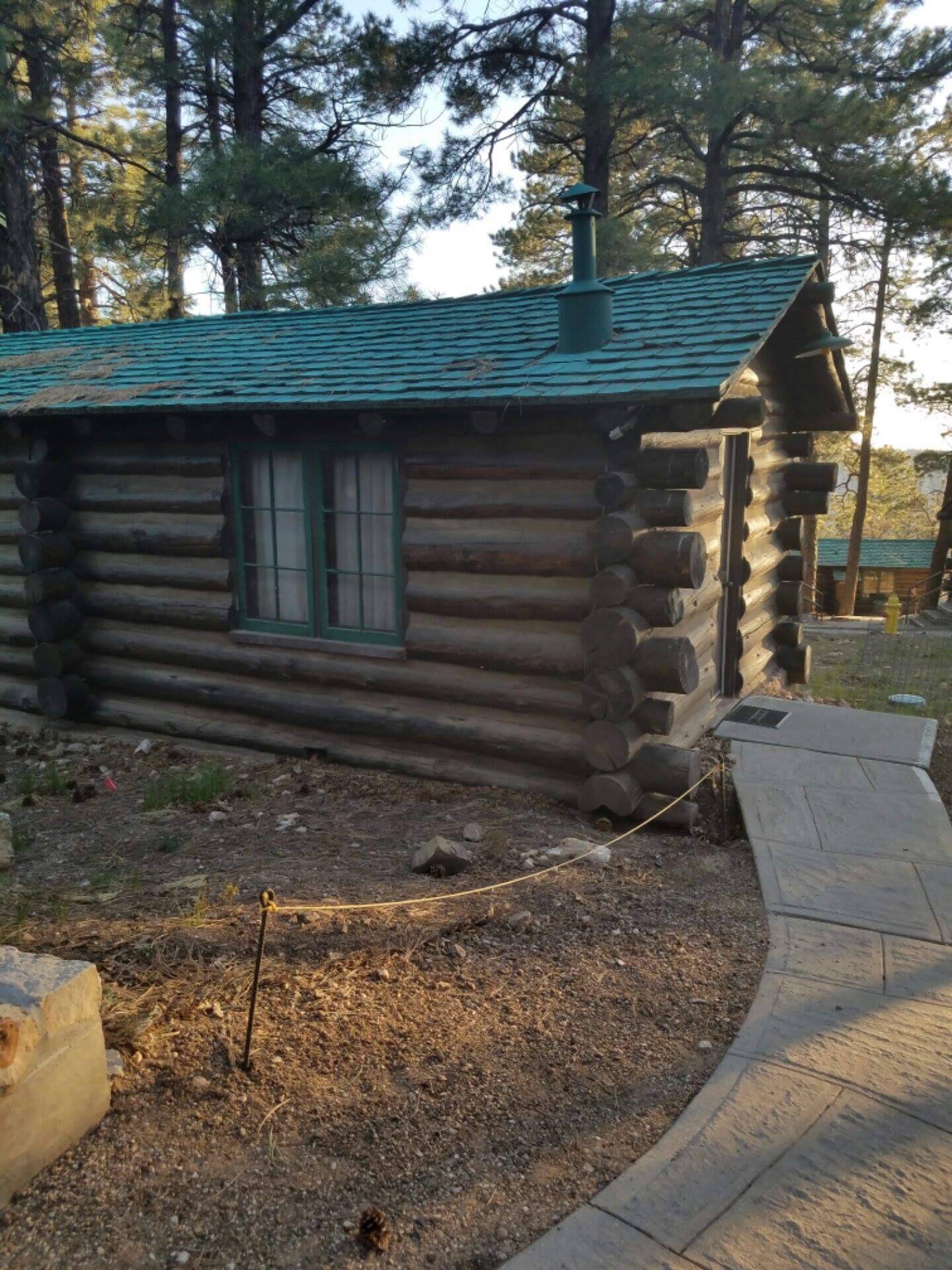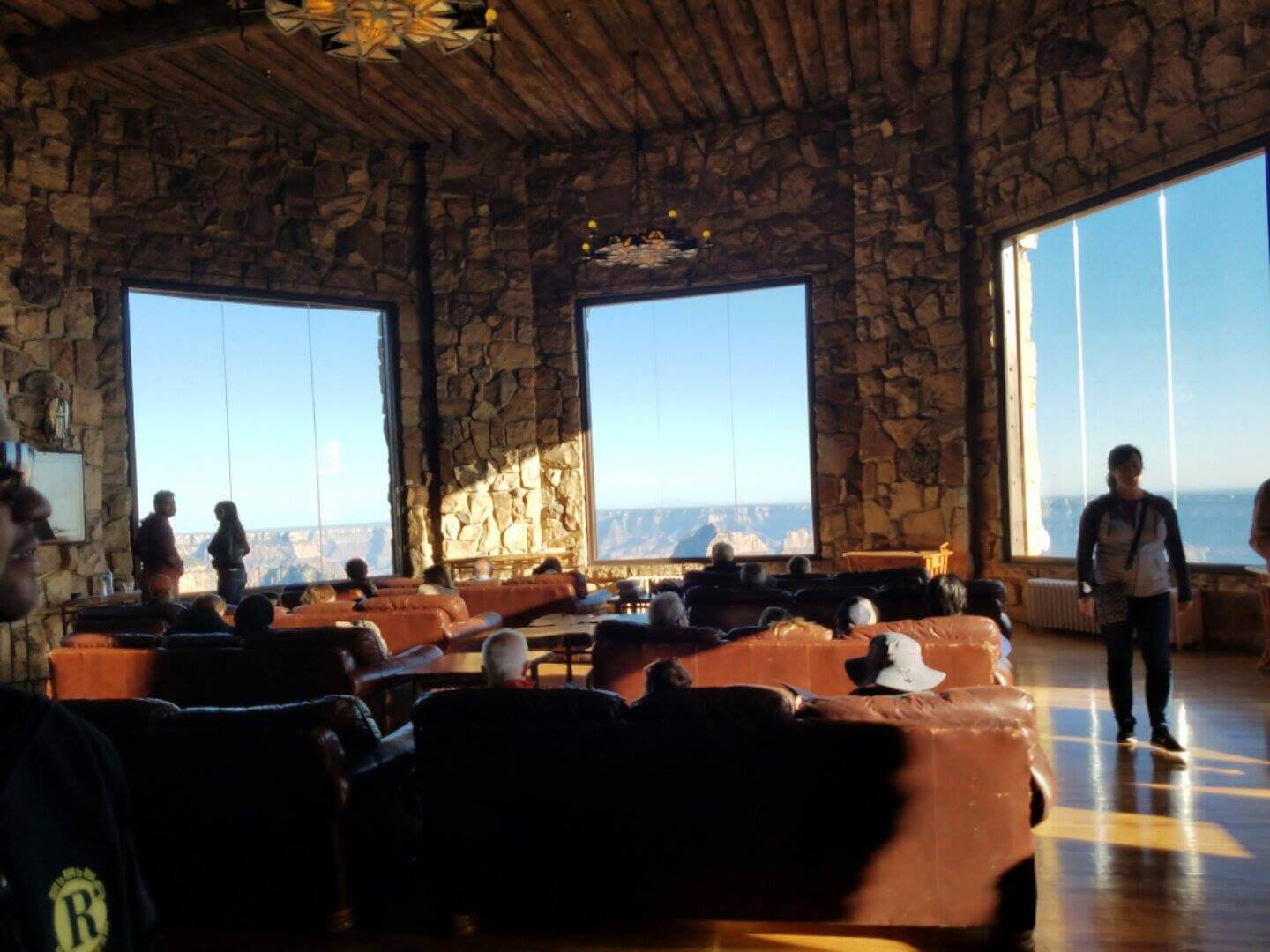 The above picture is a lounge area where you can see the views of the Canyon. There's also an outside deck: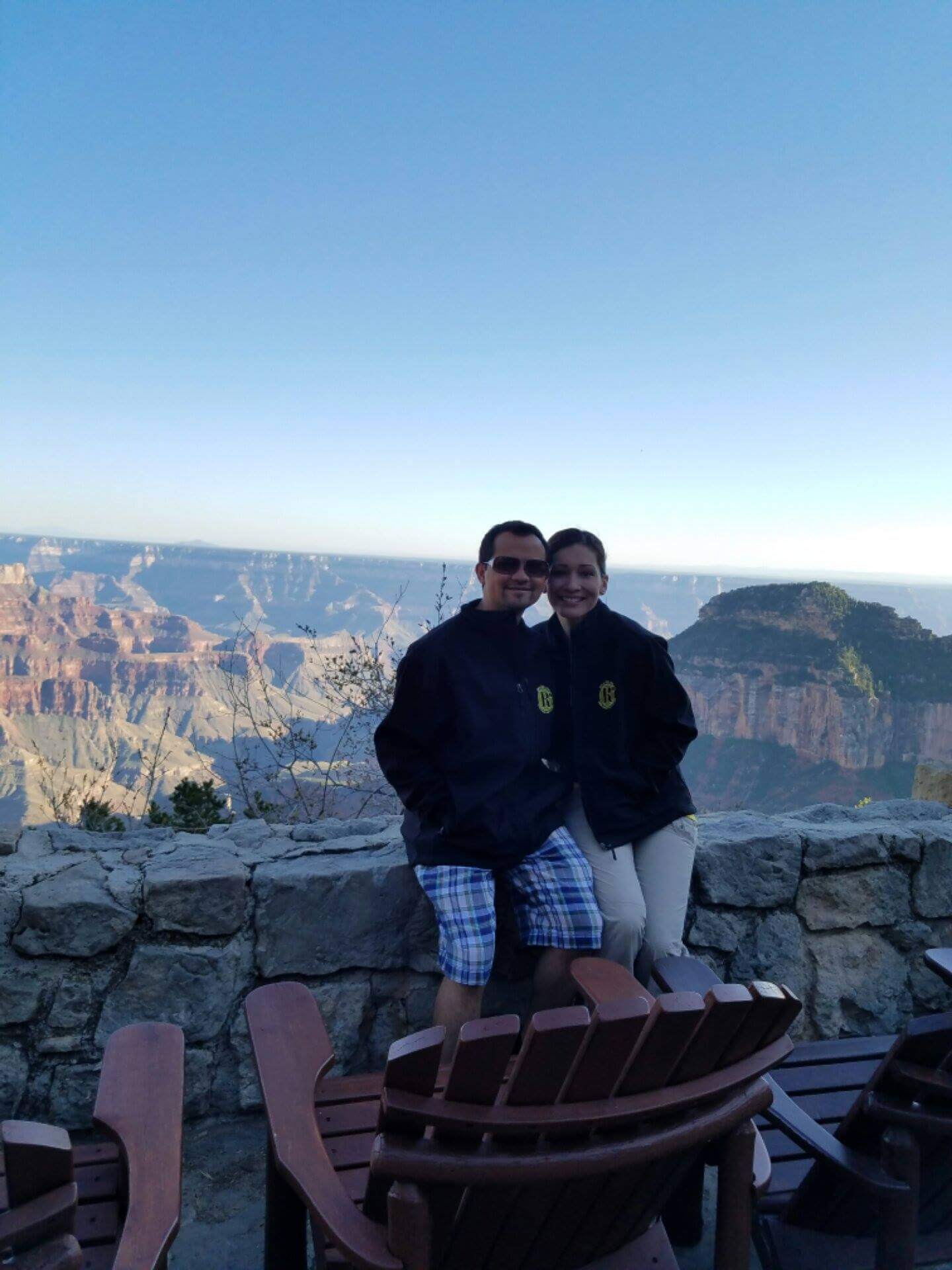 I would totally recommend visiting this place if you just want to "see" the Canyon and not actually go inside it, lol. You do have to make reservations if you want to eat in the restaurant though; the deli you can just walk in. You also don't need to be staying at the lodge if you want to eat.
Okay, that's enough of the "boring" stuff. I'll whip up the awesome details/pictures of the actual crossing here in the next couple of days.
If you want a sneak peek of pics, follow my Insta 😀
Thanks for following my journey!! ❤ , helly