I mentioned in my last post how this past weekend was extraordinarily awesome 😀 Well, Saturday was an epic meet-up between two of my fave running groups and Sunday, my husband ran a 5k!
I absolutely love that my husband likes running and seeing him is a lot of the times more fun than me running lol!
The Hope Run 5k is a local race where proceeds went to Save the Children and American Association for Lost Children. This is a huuuuge reason why I love running local. I like knowing that while I'm doing something I love, others are benefitting.
The International Missing Children's Day is observed in the month of May each year. It is a time to remember many thousands of small children who are lost, trafficked, or disadvantaged. Thank you for supporting the children! –Hope Run 5k, 10k
The race is in its third year and has been growing steadily. I spoke with the race director prior to the race and she told me that she had over a 100 more registrants this year than last! (It turned out there was even more as there were quite a few same-day registrants. So much so, they ran out of medals as they were unprepared for so many last minute racers.)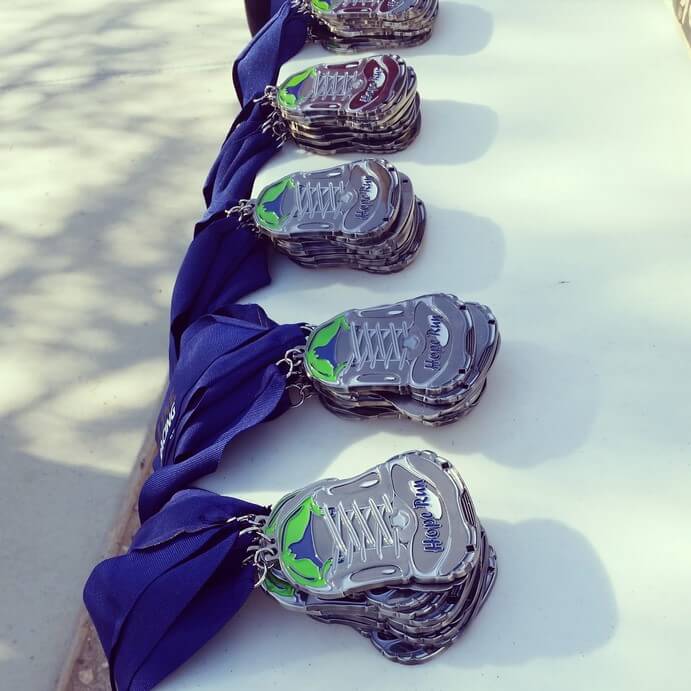 For a smaller, local race, they definitely didn't skimp out on anything. Racers received a finisher's medal AND t-shirt, the race offered age group awards not just overall, and they had a pretty sweet breakfast table set-up.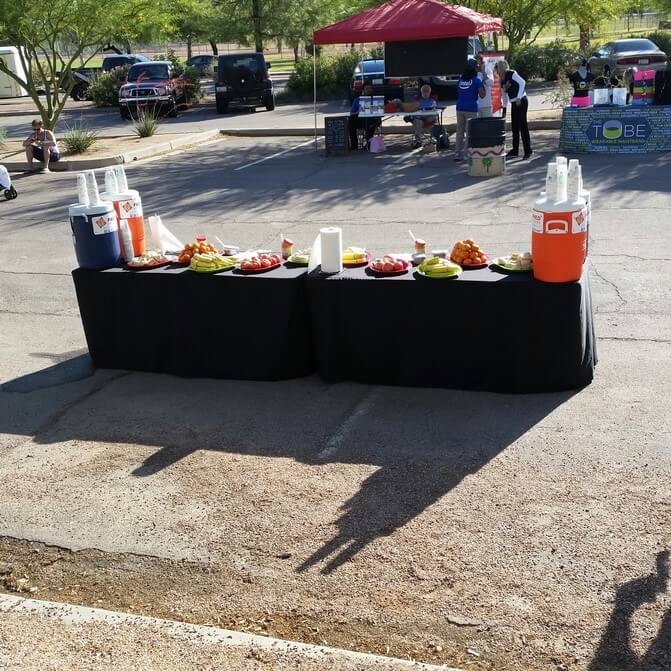 The 10k runners began the show and ten minutes later, the 5Kers lined up. My husband had signed up for the 5k and we made our way to the front to get a good starting position. We chatted for a few minutes and then he was off!
I knew that his goal was to PR–his previous 5k best was 21:07 and he really wanted to see 20. His ultimate goal is to see a teen but knows that's a work in progress.
Oh, to be fast…..
Anyway, I hung out and visited a few of the vendors that were at the race. It wasn't too long though before I saw the first place guy approaching. He. was. running.
One of the things I love about spectating races is that I get to see the race from such a different perspective. I would never be around the people who finish first and to see them cross the line is just super cool.
He crossed, grabbed his medal, and then made his way to me.
"Your husband's right behind me."
Say what????
Sure enough, there he was!!!
I could tell that he was giving it all he had as I'd never seen him finish with that much resolve.
I positioned myself to get a good finisher's pic and as I was waiting, I saw the first place guy walk up to the finish line.
As my husband ran through, the first place guy reached out his hand to high five my husband.
The running community is amazing.
My husband grabbed his medal and I ran to him to give him a huge sweaty hug 😀
I couldn't believe he'd gotten second place and ran so well finishing in 20:47!!! A new PR!!!
And you know what he said to me when I told him his time?
"I'm getting closer to 19." Hahaha!! I love him. Runners are so competitive with themselves, aren't they?? 😉
We chatted with the first place guy for a while. He and my husband talked about how the course had a quite a few loop de loops that made it a little confusing. He was 20 and had ran cross country in high school. He said he preferred longer distances but runs 5Ks for fun. LOL.
The awards weren't too long after and it turned out that my husband was able to get the first place medal for his age group and the second place overall award. Usually, I've seen races only give one if you're the winner for both.
The age group award is pretty sweet. It's a small first place plaque that hangs off the main medal. For the second place finish, he won a $15 certificate to Road ID–score!!!
The Hope Run 5k was just another race that solidified why I like running local. I get to meet and support people in my community and the race proceeds go to great causes.
Last month, I ran another local race, Run3rd 5k, where I got to meet Sean Astin. It was the race where I thought I had placed in my age group only to find as I was walking up to the podium that someone else had won. Remember?
Well the race director read my race review and contacted me to let me know what had happened! She said there was an issue with two racers whose bibs conflicted with the timing chips. They had to manually fix their times and one of them finished 3rd overall bumping the girl into placing in their age group instead–mine.
And the girl who started 2o minutes super duper late? It turns out she started about 5 minutes after (which to a runner feels like eternity right? ha!).
I thought it was so nice for the race director to go out of her way to explain to me what happened. Again, this is why I run local. These people seriously care about their runners ❤
I hope everyone is having a good week so far!!
❤ , helly
–Do you like running local races or bigger races?
–Ever won a race? or came close?