We weren't in Spain for too long. We got there Saturday morning and went straight to the Expo after dropping off our luggage at our hotel and left the next day a few hours after the race.
But, we did do a little sight seeing so here are a few pics 🙂
I mentioned in my race recap that there was a long line at the Expo:
It wrapped around there towards the right of this pic. It moved along pretty quickly so in about an hour we were inside. The expo was actually quite large with a lot of vendors. I made sure to stop by one of my faves 🙂
After the expo, we headed back towards the hotel to grab a bite to eat. We took the metro and while we waited, I saw this advertisement:
I teach Shakespeare's Macbeth (it's my second favorite Shakespeare play) and thought it was so cool to see this play being done in Spanish. I would have loved to see it!
We got off near our hotel and walked a few blocks to it. Here's a view:
The streets were really crowded; it kinda reminded me of New York.
We ate at a nearby restaurant and was shocked that my beverage of choice, Coca-cola, was 8 Euros ~ $10+ dollars!!! For ONE CAN. It turned out to be like this at most places which really saddened my heart. Even water was expensive at around 5 Euros a bottle 😦 But even though buying a coke broke the bank a little, I had to. I thought of it as a souvenir 🙂
Once back at the hotel, my husband and I decided to check out the roof top. The view:

We decided to take the stairs back down to our room 🙂

We called it a night soon after and the next day, on our walk to the start of the race, we did a little more sight seeing. We passed a bookstore and I saw this:

You might have heard of a little series called The Hunger Games. It was so cool to see it in Spanish–and for some reason, reading the title in Spanish made me giggle.
We reached a main cross street on our walk and came across the main post office.
On our hike to gear check, we found that it was in side Parque Madrid–Madrid's main park. It was absolutely stunning. The bushes were manicured, the trees were lush, and there were gardens and statues throughout. It was also very big!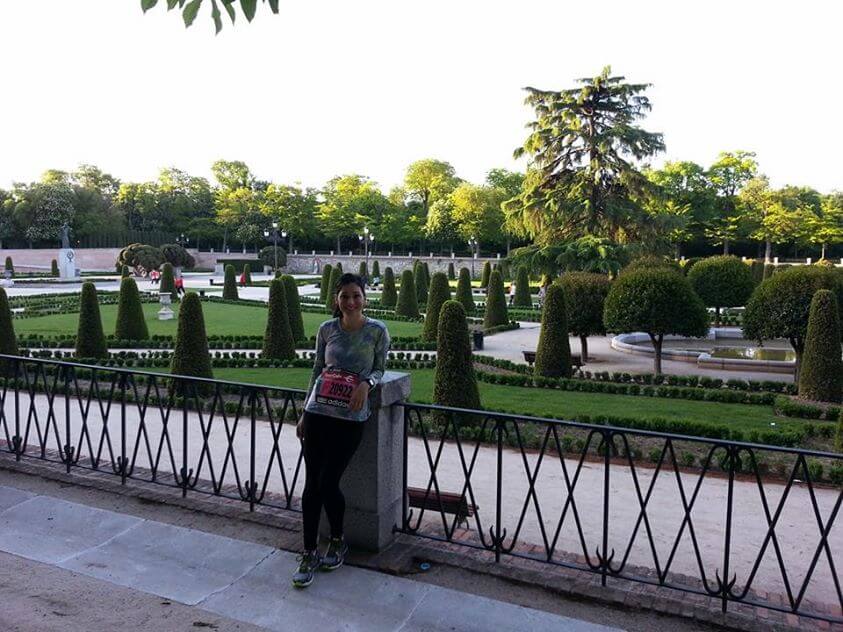 We were at the airport a couple of hours after the race headed to Italy so there wasn't a whole lot more we were able to do. I kinda wished I had carried my phone during the race because I was able to see a lot of the city in 13.1 miles. I'd like to return to Spain someday and spend more time there. I want to visit other cities too–Valencia, Barcelona, and maybe Seville. Regardless, the time we did get was so much fun. I loved being able to talk to the locals and really get a feel for what it was like there.
And the race. The race was awesome 🙂

–Have you seen a play or movie or read a book in another language? (one of my favoritest foreign films is Life is Beautiful in Italian)
–Would you pay $10 for a coke? What outrageous prices have you encountered in your travels?
Next stop, Italy!