Wow. Just, wow. I ran a 5k on Thanksgiving that I had no idea I had in me. I won the whole damn thing (for the girls, anyway) and have never ran so fast in my life.
So the past 3-4 years, since I started "running" running, my husband and I have done our local town's Turkey Trot 5k. Even though I know the course/streets very well since I grew up on them and could run them in my sleep, this race always kills me. Always.
The first mile is downhill and half of the 2nd and half of the 3rd are on an long, gradual incline that just does me in every. single. time.
To put in perspective–the first time I ran this race was back in 2013 and I finished in 25:44, a PR at the time. As time passed, I PR'd on other 5k courses (down to 23:40) but in 2014 and 2015 I couldn't beat my 2013 time on that dang Turkey Trot course!!
Anyway, going into the race my goal was to beat my course PR. But, my brother really wanted me to beat his course PR–24:30. I was okay with simply getting sub 25 but my brother was pretty insistent on me beating his time. So, I decided to shoot for that thinking it would be a pretty sweet win if I made it.
I had a really good run under my belt going in. The Tuesday before I had done a 5 mile run with my husband. But like, really with my husband. At his pace. Whenever we run together, he slows down to accommodate me, but on Tuesday, I was feeling it (and really, I wanted to actually run with him, lol) and he didn't have to slow down all that much.
5 miles–8:20, 8;04, 7:45, 7:35, 7:23
So having done that run and feeling pretty good, I was confident I could get the time my brother wanted me to get.
5k First mile–7:14
Yeah…..like I said, it's downhill and I worried that I'd blown it going so fast. Especially knowing I had the dreaded uphill coming my way.
5k Second mile–7:32
Holy crap, I couldn't believe it. I remember climbing up (it really is such a subtle incline but it feels mountainous) and telling myself to push, push, push!!! I saw a girl up ahead start walking and that fueled me. I sought to catch and pass her and that helped me speed up on that uphill. When I did pass her, I told her to join me, but she was done.
As I approached the third mile, I saw that that girl I'd passed was the only girl in front of me!!! I was the first female at that point!
5k Third mile–7:25
No way was I gonna lose this chance. We got into the park to do the final loop and I just gunned it. I told myself to run as fast as I could, fast where it hurt. I told myself to make it hurt.
5k point one– 5:50 pace
And I was the first female overall!!!! I have no idea where the young cross country girls were (the overall male was a 16 year-old cross country runner) but I'm glad as hell they sat this one out 😀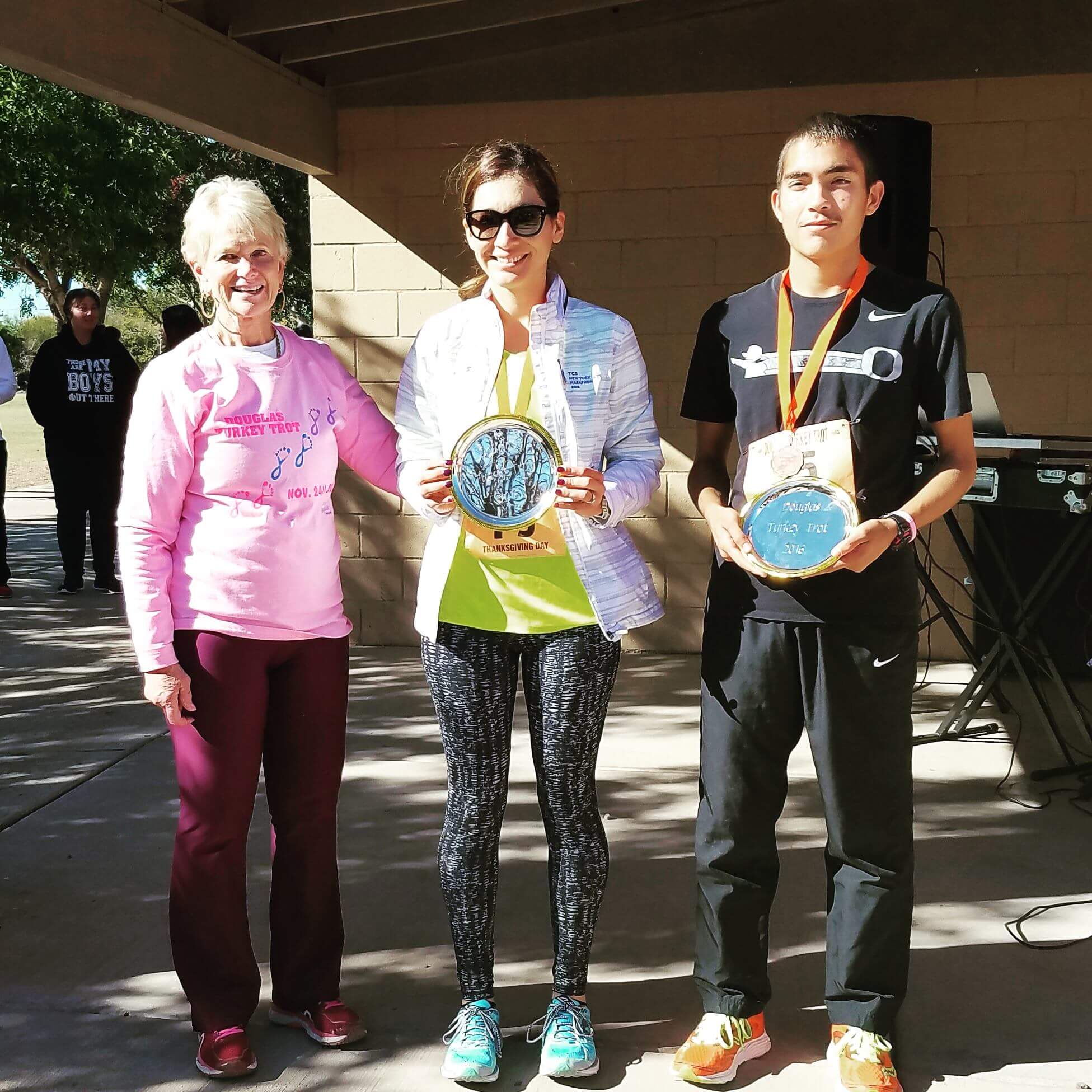 I won this cool plate and my picture was taken for our local paper and I felt like such a badass, haha!!!
I may never win another race, but I'm so proud and happy I won my town's 5k (and their last one, unfortunately).
–Have you ever won a race?
–Does your town have a popular race?
–How was your Thanksgiving, Americans?