…THIS IS HARD.
and I know it's "supposed" to be hard. And I know that it'll make me stronger. And I know that it will all be worth it.
But it's still hard.
Monday, July 3rd–8 Miles; 2 mile WU, 5×1 mile @7:15 pave (1:30R), CD to complete mileage
I was still in my hometown and I needed to do this run, so another 5 a.m. run it was.
I made my husband do this with me and he heard the struggle (me swearing) on each mile. There's no way I could've come close to these times without him–this shit hurt. And I didn't hit the mark on any of the miles, but I was still pleased with how I did. Except for that one split that wasn't even close–that has been a recurring theme in this training…a random split that's way off, lol
SPLITS
-7:20
-7:25
-7:20
-7:37
-7:20
Tuesday, July 4th–Core strength, stretching, foam rolling
It was Independence Day and we actually traveled back home on this day so a good chunk was spent in the car. I made sure to do some core work and rolling when I got home though.
Wednesday, July 5th–6 Miles; 1.75 WU, 6-5-4-3-2-1 minutes @6:50 pace, CD
Soooo, with work looming, I'm getting myself used to evening track workouts and this was the first one of this cycle.
I wasn't expecting to hit my paces because of the heat, and except for the first and last intervals, I didn't. (The six minuter was actually supposed to be 7:00 minute pace and I was close–the rest were supposed to be 6:50.) But nonetheless, I was really happy with this run.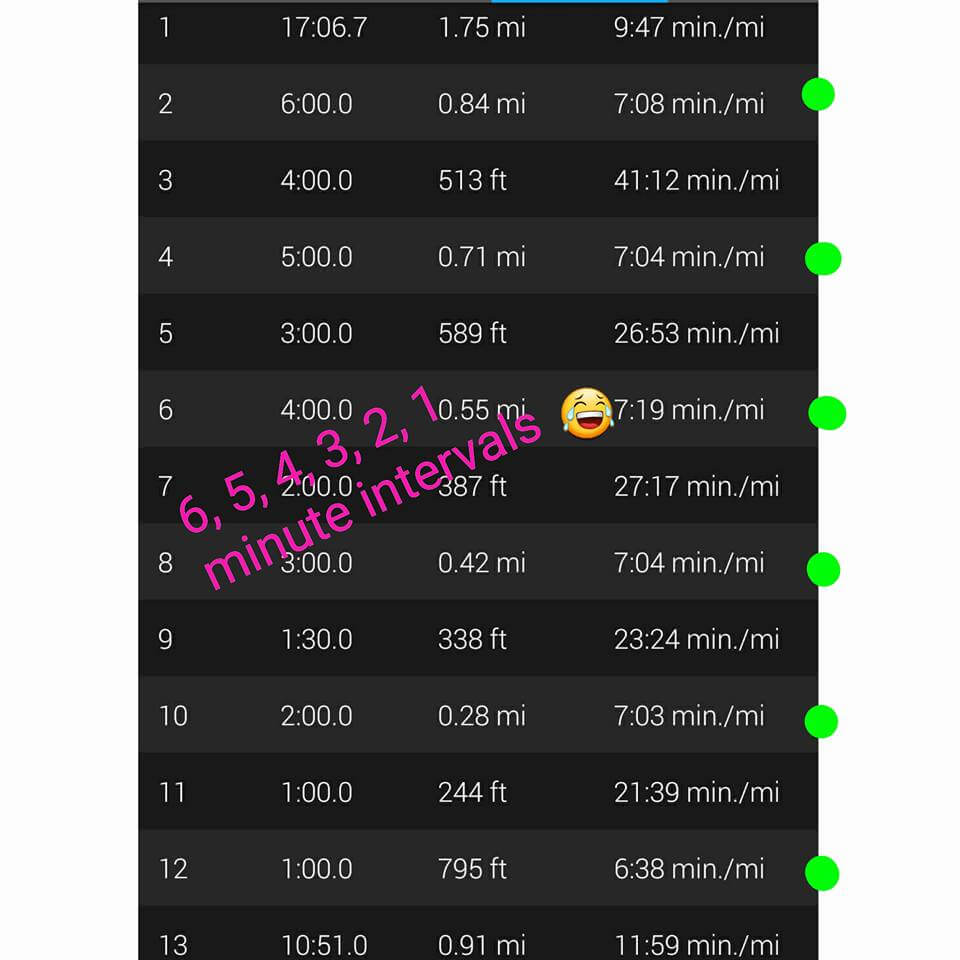 Thursday, July 6th–Core strength, stretching, rolling
I haven't gotten myself to bike/spin for cross training but I have been keeping to doing some core work at home. I'm hoping it's sufficient enough, lol!
Friday, July 7th–6 Easy Miles at 9:17/avg
I met up with my BQ training buddy Ashely for this run. Nothing fancy (including no picture, jaja!).
Saturday, July 8th–15 Miles @9:47/avg
Absolutely awful.
You know how there's moments in your training where you doubt you'll reach your goal. That was this run for me. I just couldn't move. Couldn't. And to think that I would have to run 11 more miles than this at almost two minutes faster, completely crushed my spirits. There's no way I can do it.
I know it's hot. I know it's supposed to be hard. I know this. But it still sucks. I looked back at my summer training last year and I nailed a 15 miler around this same time period. And actually, last summer's running was good! This summer, while my speed work has been great, my long runs have been incredibly abysmal.
At least there was a pretty sunrise #thelittlethings
And that was Week 5..sigh…..I know, I've been doing pretty good so far and we're going to have those runs/weeks. But I feel like every long run this cycle has been so hard. The long run specifically.
Total mileage: 35
–When in the training do you (if ever) struggle with believing in your goal?
–Do you prefer short and fast or long and "slow" runs? I used to prefer the latter, but I've been doing a lot better with the shorter stuff. The long run has not felt "slow" or "easier" at all, lol!