Marathon training #2 starts mid June and in celebration I've decided to kick-start it with a fun 100 Days of Summer & No Soda! If you've been with me a for a while, you know that me and soda are pretty close buddies. I am interested though, in seeing how/if my body changes through training and no soda. This curiosity is strong enough to commit to 100 days of eliminating it from my daily life.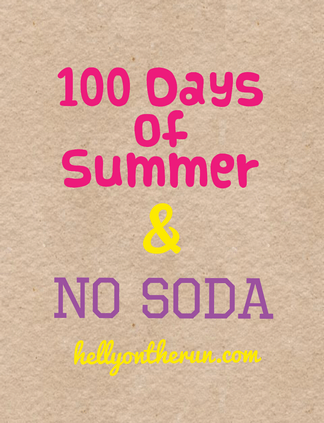 I'm scared.
I have a good feeling I'll go through some tough days, so, I would LOVE it if you joined me this summer. What do you want to commit 100 days to? It doesn't have to be deprivation like me and my no soda, but it could be something like 100 Days of More Water or 100 Days of More Me (where you devote something however small to you). I know that Runner's World is hosting a Summer Running Streak that started Memorial Day to 4th of July,–why not extend it to 100 days 🙂
I brought my 100 Days plan to my Healthy Moms group online and they had some great ideas for themselves–
100 Days of:
*Healthier Options–replacing one thing everyday with a healthier option
*No TV
*New Healthier Foods (trying new tastes and recipes)
*Positive Thinking
I'll leave you with a couple of days to think about it. I hope you decide to keep me company! ❤ ETA: This will start June 1st and end Sept. 8th.
–What ideas would you throw in to the 100 Days plan?
–Do you think I'll last 100 Days without a Coke?