I gave it away in the post title– I GOT A PR !!! 1:42:45 !!!
I went into this race hoping for a 1:45 (or under), my previous PR being 1:48:04. I know it's cliche, but I really did not expect to have such a big improvement.
Leading up to this half, I had "prepared" by doing a few fast runs but I hadn't done anything longer than 6 miles since NYC Marathon.
My lone six miler averaging 8:00 minutes was from my 10k PR in February, lol!
On Friday , I had a few friends over for an early birthday celebration (it's this Friday!) and I thought they were seriously trying to sabotage my PR hopes by bringing me so many yummy goodies…
Saturday was a busy day of breakfast with Santa in the morning and a kid's birthday party in the afternoon.
Sunday race morning , I met up with my run club around 6:15 at the tent they set up–we were registered as a team (more on that later). One of my friends was also going for 1:45 and we chatted for a bit.
I was there pretty early because I was taking advantage of race day packet pick-up. I love races that allow for that. Sometimes the packet-pick up places are inconvenient and picking up race day, for me, is definitely easier, especially if I can just drop off stuff in my car.
The Scottsdale Half Marathon & 5k is always in December and December here is absolutely beautiful, especially that day. Last year it was freezing (for us) and this year, we couldn't have asked for more perfect weather. I'll take a 50 degree morning any day and my shorts and short sleeve outfit was perfect.
The course is relatively flat with a few park hills near the end. It's an easy course in that there's not many twists and turns. You're pretty much going north, south, east, or west for long stretches of time. It's a race known for its PR potential, so it attracts a lot of fast runners. The winner of the half finished in 72 minutes.
There was a nice group of us who started together including a buddy of mine, Dallas, who I'd done a lot of my NYC Marathon training with. He's a super fast runner but is currently marathon training himself so he wasn't racing this particular race. My friend Ashley and I convinced him to be our pacer and he was more than happy to.
Miles 1-6
Our pace was right on as you can see: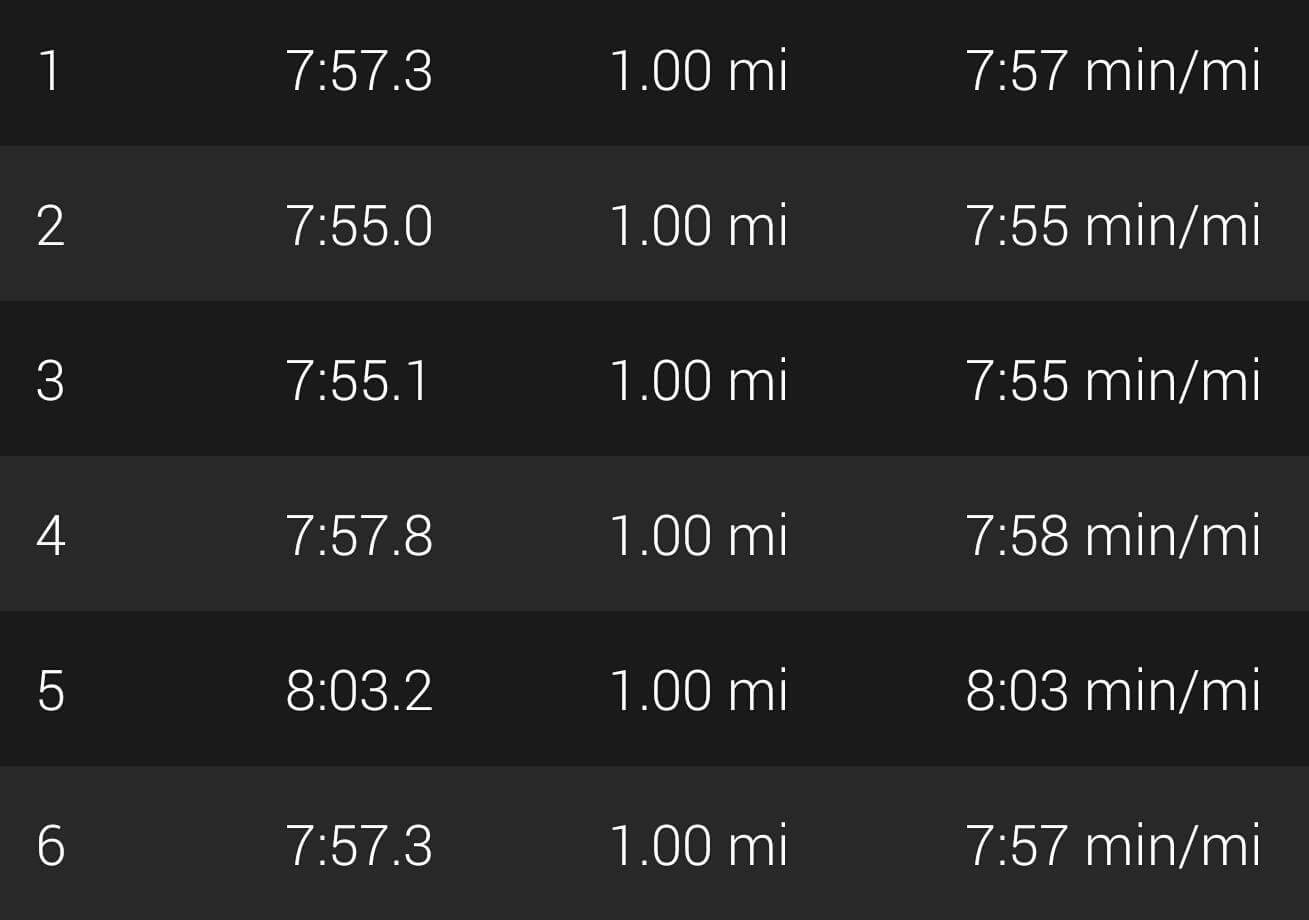 I felt great and my breathing was good. My friends know I'm not a chatterbox when I run so my silence wasn't because I was struggling, I was just in the zone.
Feeling comfortable with the pace just below 8 minutes was awesome (mile 5 did irk me though, lol) and I hoped we could continue like that the rest of the way. My plan was to go to mile 10 at that pace and then push it for the final 5k.
Mile 7

I took my lone Gu at this mile and we took a turn that would lead us to a super long straight stretch going south. It was here that I asked myself how I was feeling and if I could go faster. I knew that my plan was to wait until mile 10, but I also knew that this race wasn't a "I will cry if I don't PR" race and that I had nothing to lose by pushing myself a little harder than I was used to.
My husband always tells me that I'm faster than I think, and I thought about his words then and how much I wanted to show him that I could push hard.
So I went for it.
Miles 8-12
I didn't say a word to Ashley, and Dallas could see I was increasing my pace so he followed suit staying ahead of me a bit to guide the way.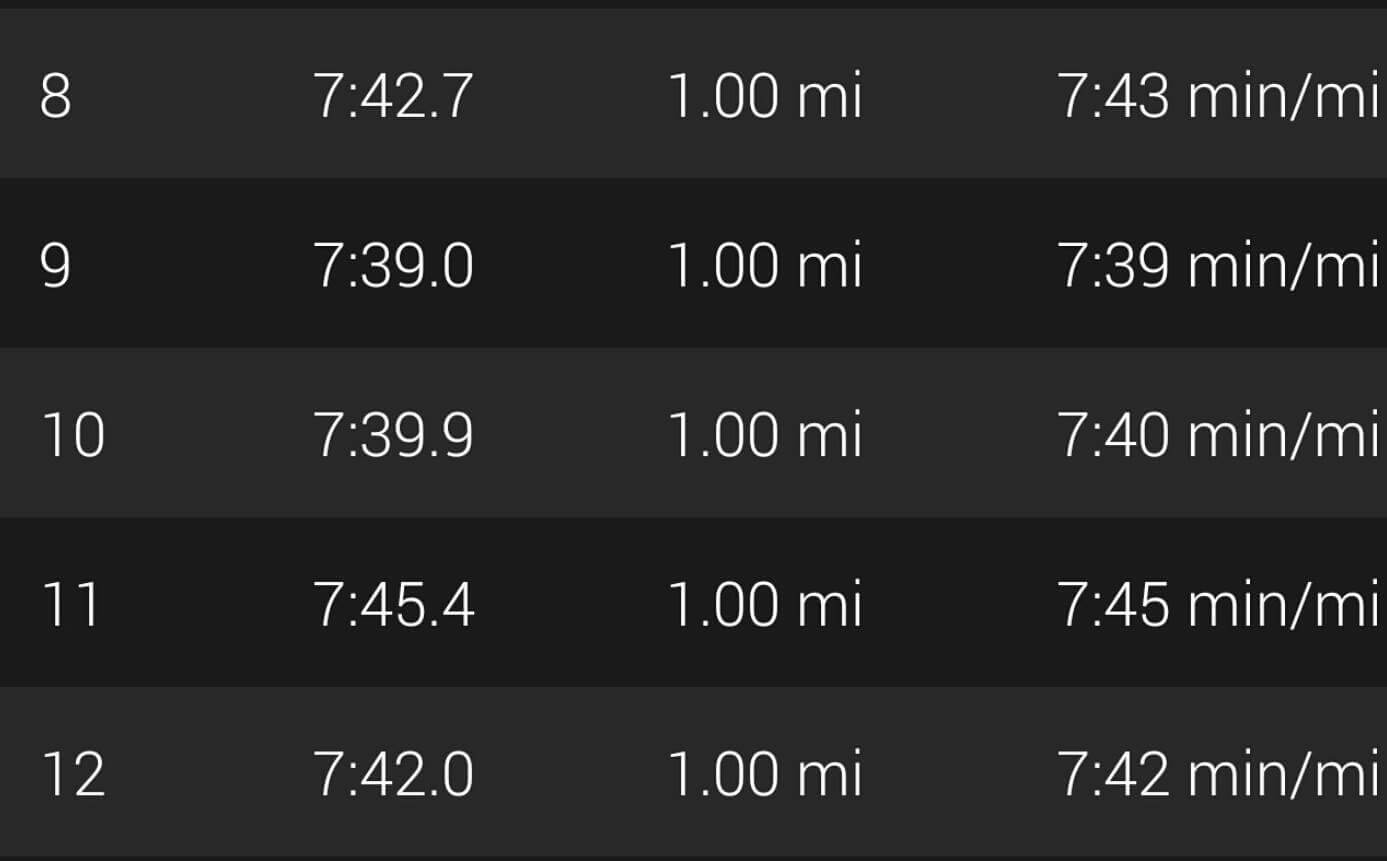 Dallas was amazing, grabbing water for me at the stations and having it at hand so I wouldn't lose my step. He always stayed just a bit in front so I was always at a distance of trying to "catch him" –which is how I prefer people to pace me.
I was passing so many people and that really helped me feel strong and confident. At this point, I had plugged myself in and allowed myself to enter the pain cave. I knew that I was almost done and that anything I felt would just be temporary.
It's also in these miles that there were little, but still awful, steep hills and I just repeated, "Short, quick steps, Helly. Short, quick steps."
There were runners that looked fit and strong and I couldn't believe that I was passing them. I used to psych myself out when I would see runners who looked a certain way and tell myself I couldn't hang with them.
Not this time.
Mile 13
We turned the corner for the last mile and I whispered to Dallas, "I want to die in this mile."
"We're almost done. You got this!" he said.
"No, I want to die. I want to go fast until I die!"

I did really want to go as fast as I could. I wanted to see how fast I could run at that point and finish leaving nothing on the pavement. I tried my hardest to pick up my pace and when we reached a corner I saw the best thing I could've ever seen: my husband.
He had a huge smile because he knew I was on my way to killing my PR. He yelled words of encouragement and because he and the friend he was with knew I was approaching the last turn and finish line, yelled, "Turn and burn!!"
So I dug deep and ran….fast.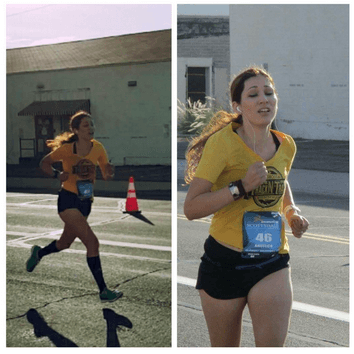 I wanted so badly to stay in the 1:42s that I gave zero fucks and ran like my life depended on it.
And I finished absolutely elated!!! Absolutely, incredibly proud that I had decided to push myself, to allow myself to see what I could do if I just went for it.
My husband, in previous half marathons, had gone from 1:48 to 1:42 in his half marathon time and I had told him earlier in the week how cool it would be if I could match his progression. I NEVER thought it would could actually happen. (Of course then he went from 1:42 to 1:36 and then on Sunday's race finished 2nd in his Age Group with a 1:32 –so now there's no way I can continue this trend, lol!!!)
It was such an amazing day. Honestly, I never, never thought I could run the way I'm running. That is the honest truth. I don't really know how to explain beyond what I wrote here, what has happened or why I'm all of a sudden running paces I've never seen. Clearly, something in me has changed. I'm still processing it and figuring out what it means, but I'm definitely hoping that this newfound confidence doesn't go away. I hope that I always give myself a shot, that I believe in myself enough to try hard things and that even if I "fail," I continue to learn from each experience.
As always, thank you all so much for your encouragement. I love having this little space to document my growth and share it with you ❤