Halfway there! Hopefully….
It was a busy week despite no running as it was finals week at work and my last official week of teaching.
Monday started our Secret Santa exchange and I knew I was off to a good start with who I got:
I did an medium/easy upper body workout before bed. Just a series of different arm weight reps, nothing big.
I had a few friends and their kids over Tuesday to do some pre-birthday celebrating and it was fun to chat with friends who would tolerate me complaining about not being able to run.
One minute plank before bed.
Wednesday was my birthday!! 😀 I turned the big 3-1 and would've liked to run a nice, neat 5k (3.1) but alas…
I did however, go to track to hang out with my running buddies. If I can't run, at least I can hang out with people who love to run.
Let it be known, that up to this day, I had gone 2+ weeks with NO SODA. Since the discovery of my injury, I had proposed to myself a challenge of no soda during my no running time frame.
But, so many of my students knew of my love of all things Coke and I was treated to several different sizes of the beverage on my birthday. I couldn't turn it down.
I could totally feel it though, as I spent the entire day bloated, lol!!
Thursday, I did this video and I felt so good afterward. She can be a little….much…but she's a good distraction as I find myself listening to her instead of focusing on how I'm struggling with the reps, lol!
It was my official last day at work on Friday and I certainly felt the love from my students. There were moments of the day that were tough, but overall I felt more relieved than sad, and that made me feel like I had made the right decision.
Our local running store had a Donut Run/Walk 5k Saturday morning and my daughter and I were all about it.
I skipped the donuts though, letting my daughter take care of it 🙂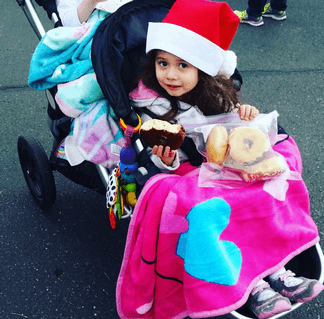 Later that night, it was our run club's holiday party and oh boy….
Each year there are gag gifts sprinkled in the White Elephant exchange (that's where you pick a present but don't know who it's from). Of course I ended up picking a gag gift … It was a pair of lingerie underwear!! I was SO embarrassed and was forced to hold up the gift for all to see. I don't want a picture of me holding up a pair of pink lacy underwear on the inter webs so I'm skipping posting the pic LOL But here's one of me while opening it and dying.
It was a fun, busy week that kept me distracted from not being able to run. I'll be attempting my first swimming adventure on Tuesday and that will definitely be interesting…jaja!!!
I hope everyone has a great week and happy holiday! ❤ , helly
–Any fun holiday party stories??
–What did you ask Santa for for Christmas??
–Anyone else with a birthday in December? Do you get the, "This is your birthday AND Christmas gift." Grrr…LOL