I was lucky enough to be able to see the Boston Marathon at work as my students had state testing that didn't require me to proctor. So I did what anyone else woulda done 😀
More so today, but even on other big marathon days, I get the inkling and wishful thinking of training and attempting a BQ time. I'm ridiculously so far away from what I would need to do– but kinda like driving by your dream house, or test driving your dream car, it's perfectly normal to dream a BQ, right?
| | | |
| --- | --- | --- |
| Age | Men | Women |
| 18-34 | 3:05 | 3:35 |
| 35-39 | 3:10 | 3:40 |
| 40-44 | 3:15 | 3:45 |
| 45-49 | 3:25 | 3:55 |
| 50-54 | 3:30 | 4:00 |
| 55-59 | 3:40 | 4:10 |
| 60-64 | 3:55 | 4:25 |
| 65-69 | 4:10 | 4:40 |
| 70-74 | 4:25 | 4:55 |
| 75-79 | 4:40 | 5:10 |
| 80+ | 4:55 | 5:25 |
Anyway, I like to live vicariously through others and right now I'm living through Amber @Pb and Prs who's running Boston as I type!
I'm also living vicariously through my BRF, Salt, who I know with all my being has a BQ race in her future. You better believe I'll be on the sidelines on that big day to cheer her on ❤
I didn't race this weekend but had a longish run that was much needed but not much wanting to do. (did that even make sense?) My legs have been feeling so heavy lately and I totally feel like I'm back at the very very beginning of running. After so many months of training, I feel like my body began to shut down and that's when I got really sick. Now, I'm starting to finally feel better but I def feel like I'm starting over. Luckily, I don't have anything huge I'm training for (except for a 1/2 marathon in 2 weeks!) that would cause me to stress–I find out about Chicago Marathon next week!
On Sunday, yesterday, I ran a 4.15 mile run for Boston with several local running groups. It was a fun run and my friend and I ran with a guy who ran while holding the American flag. He got a ton of honks and thumbs up along the way and it was such an enjoyable run in that respect.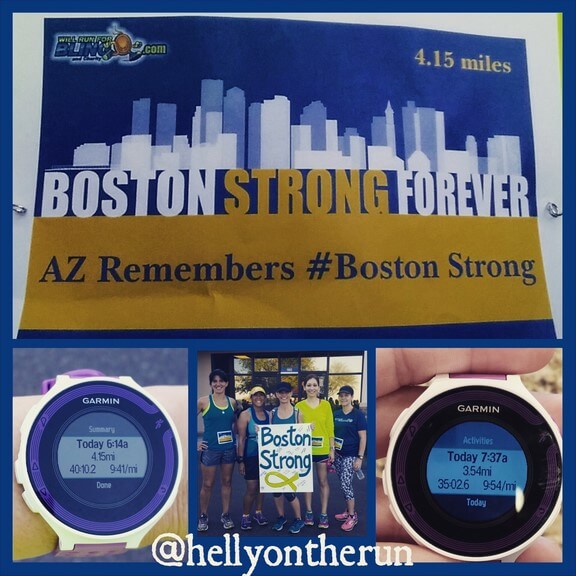 I needed more mileage so I ran right after with my local MRTT group and got in a 3.5er. I didn't do the exact 8 I had planned but I was totally fine with what I'd done and really had no motivation to run more. I felt like the two runs were a lot harder than they needed to be and they kind of brought me down spirit wise. I know it'll take a few weeks/months to get back into the swing of things and for my body to get used to mileage again. And I know things will be okay. Just need to be patient 🙂
My daughter had another race yesterday and unfortunately, any progress made beforehand was nowhere in sight. Prior to the start, my daughter said to me, "Mommy, I really don't want to do this." It about broke my heart–not because she didn't want to run–but her having the courage to tell me she didn't want to do it. I said it was okay, that she didn't have to, and that we were going to stay and watch her friend J run his race. And we did. She was quiet as we cheered for him and when we were done, she turned to me and said, "Mommy, I'm ready now." ❤ I told her that she'd have plenty of chances to run fast in the future. 🙂
She was back to all smiles when we went to our favorite burger shop afterwards!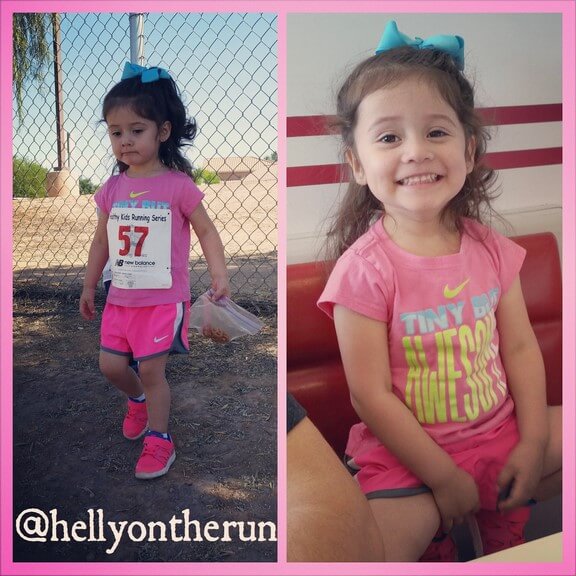 Did you watch the Boston Marathon?
Any BQ dreams of your own?