Absolutely incredible.
If I had to sum it up, there it is.
For those that dislike long, drawn out recaps (because this is what this is 🙂 ), I finished in 4:57:58. Not a PR unfortunately.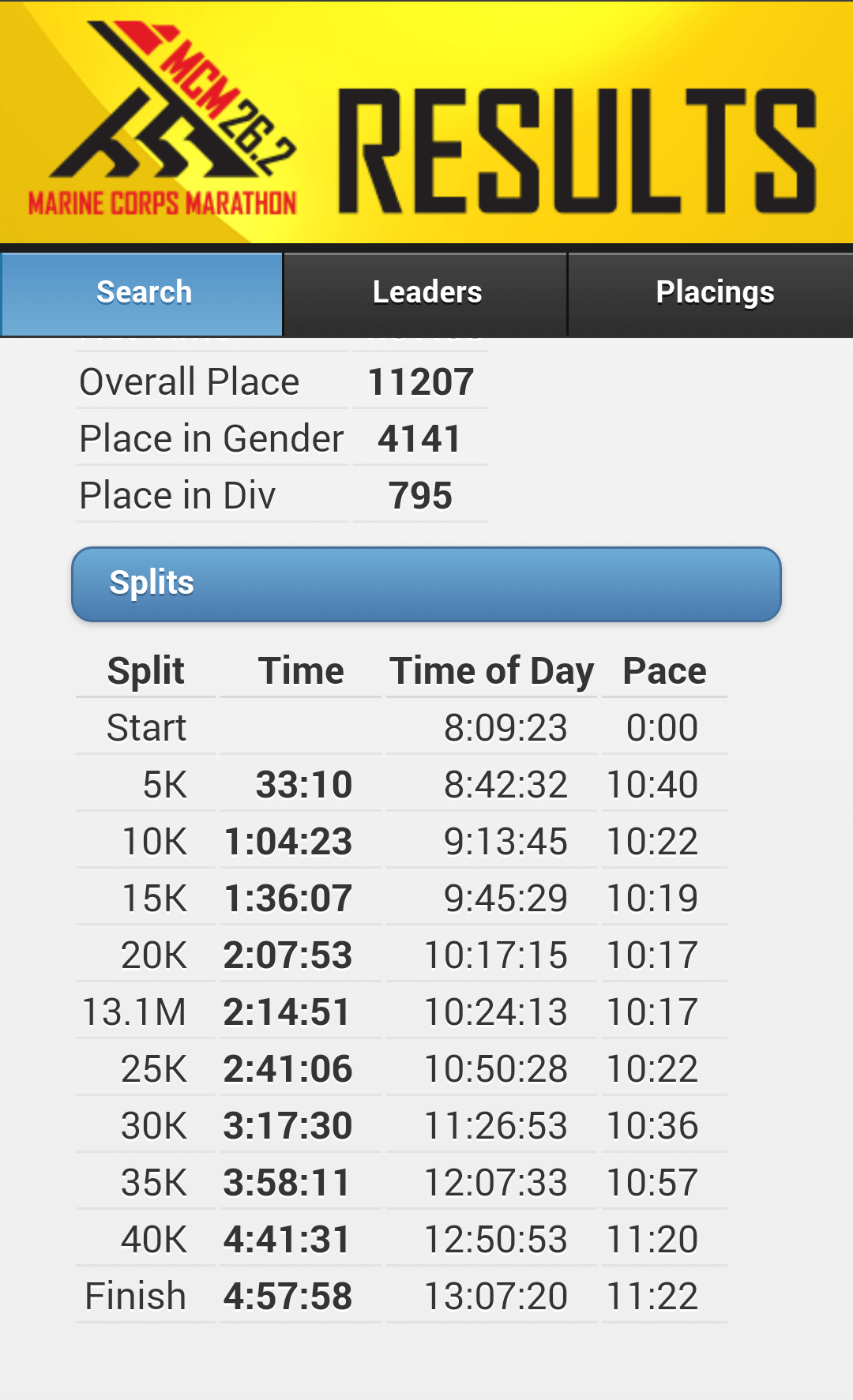 And for those who don't mind details….
THE EXPO
We arrived in D.C. Friday afternoon, and we immediately went to our hotel, dropped off our stuff, and got on the metro to the expo.
I walked up to it slowly as I knew that my marathon weekend was just about to begin! To say I was excited is an understatement!
Once inside, we were met with tons of vendors. We decided to get my bib first and then look around.
Bib in hand, we made our way to the Brooks gear. There were so many super cute t-shirts, jackets, hats, socks, shorts, you name it! I wanted EVERYTHING. My husband decided I had to have this jacket
and then I also got a few things for my family–and of course a shirt for my ex-Marine dad
We walked around a bit more just kinda relishing it all in. I did see the big poster challenging runners to "beat Oprah!" Lol! In 1994, Oprah finished MCM in 4:29! I've been coveting a 4:30 marathon since running my first–(I'm gonnna get you Oprah. Someday. But I'm gunnin' for you.)
Afterwards, we went back to the hotel and got our rest on. The next day, Saturday, would be spent touring D.C. I knew I should save my legs and not walk too much but I was in our nation's capitol! There is so much to see! I ended up walking about 4 miles going to different monuments and museums (more about this in another post) but managed to get back to the hotel relatively early to rest.
RACE DAY
I had been debating what to wear as it was chillier in D.C. than what I was used here in the desert. But ultimately I decided to stick with what I had trained in: shorts and a cap sleeve. I threw on some arm sleeves to help with the cold.
Except, it was freezing that morning. Like holy cold freezing temperatures freezing. Now I know you'll probably read other recaps and people might not comment on the weather that morning, but for this Arizonan, it was freaking cold. I was a grumpy, shivering runner up until the start. I kept cursing myself for not being prepared with a warm throwaway. And it seemed like eternity for the race to near its start time.
When it finally came, I positioned myself in the 4:30-5:00 estimated finish corral and finally allowed myself to soak the atmosphere in. The National Anthem was sung and the tears began to well. Aircrafts flew overhead and the tears began to fall. Parachuters dropped with huge American flags and by then I was mess. All before the gun had even shot off.
My husband kissed me good luck and then it was go time.
I had studied the map and knew the first part was going to be hilly. I made sure to not start out fast and just maintain a steady pace. I was pleased to see the first mile tick off 10:30something. The next two miles were around the same and then there was a crazy 9:19 mile four that I think was on a downhill. I regrouped and by mile 6 I was riding a steady 10:15ish minute/mile pace.
I kept it that way through miles 7, 8, 9, all the way to mile 13.
My husband had met me a few times along the way and praised me for keeping pace and told me to keep it going, I was doing great.
And then I got to mile 16.
It was like dejavu from my first marathon. Mile 16 I started feeling a cramp in my quad the size of a golf ball. It really felt like a hard ball was in my quad. I had prepared myself for this to happen; it was like I knew that at mile 16 shit would start to hit the fan.
But I kept telling myself, "Become one with the pain. Become one with the pain." Do you have a mantra you repeat? This is the craziness that I was telling myself at mile 16 lol!
I kept running and hoping that it would go way but it didn't. I started to see my pace slow down. Considerably.
The goal was to get to mile 20 without stopping. If I could just get myself there and then see that I only had 6.2 miles left, maybe somehow I could convince myself I could keep going.
I made it to mile 19. I texted my husband that I had stopped as I knew he'd be waiting for me at mile 20. When I caught up to him, he reassured me that I was fine. But I was fighting tears and trying to keep myself together and keep going but I just couldn't. I felt like such a failure.
I saw the 4:45 pace group run by and then I just let myself cry. Any chance of a PR was fleeing right before my eyes.
But my husband reminded me what this race was all about. Definitely not me. He told me to look around–I was in Washington freaking D.C. running the Marine Corps Marathon! He said he'd be at mile 24 and to keep going til we met again.
So I mustered up whatever energy I had and started running. I could feel the cramps, by this time they were everywhere–quads, hamstrings, calves, and each step I took was extremely painful. I decided to walk/run it the rest of the way; the last thing I wanted was to injure myself or even worse, DNF.
When I reached mile 24, I took off my water pack and handed it my husband. He said to finish strong, only 2.2 left.
Nearing the end, the crowd was getting louder. I could hear Mary J. Blige blasting from a speaker and I sang along as I ran/chugged along. The last small bit was an uphill battle, literally, but as I ran to the finish the emotions came rushing back, this time not from disappointment at lost time goals, but from pride and happiness at having been able to cross that line. A Marine put a medal over my head, saluted, and thanked me and I sobbed , "No, thank you!"
It was over.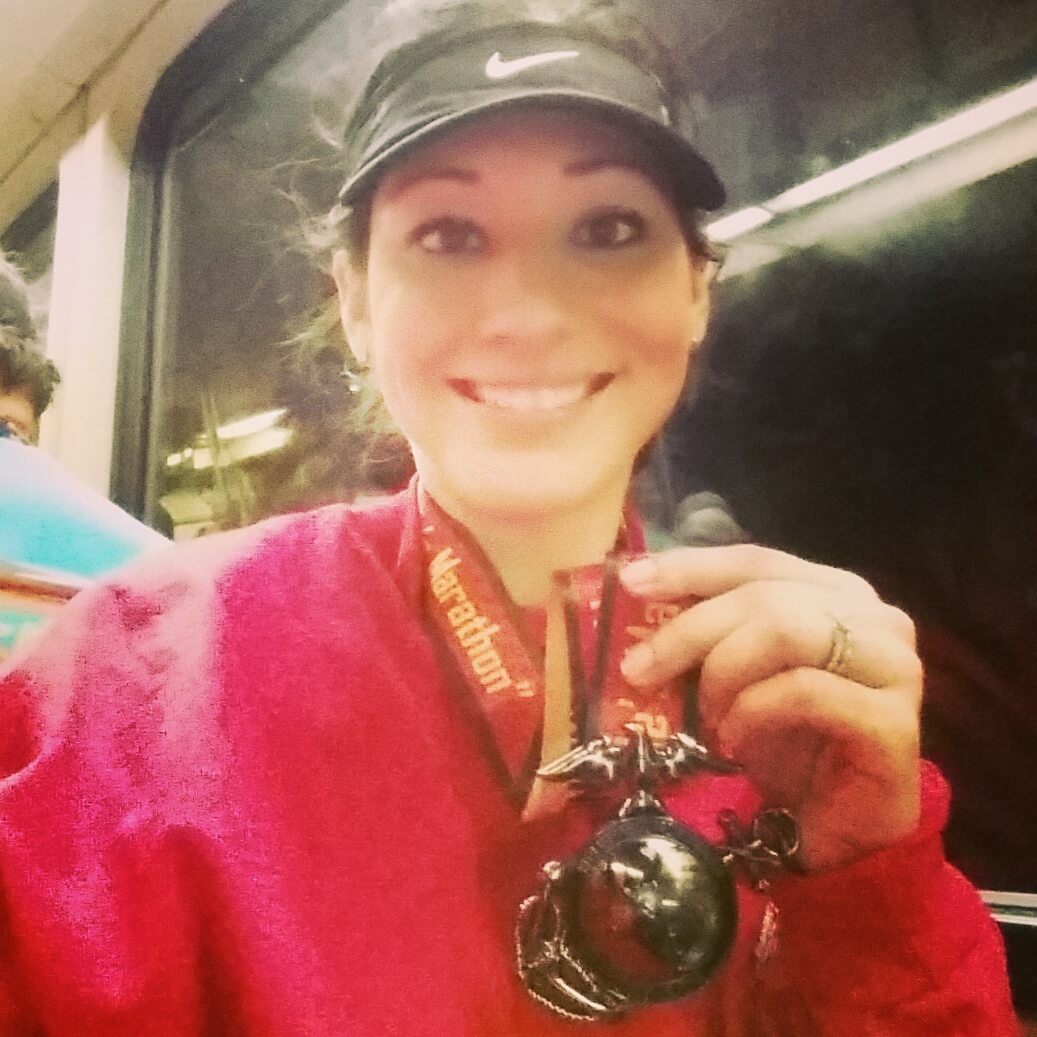 Looking back, even now just 3 days later, I don't remember so much the pain or the frustration of time goals. All that I recall are things that make this race so special, the things that made me want to run this race so bad in the first place. The people being so kind; the awesomeness that is running past places like Arlington Cemetery, Lincoln Memorial, The White House; the mile stretch where you ran past pictures of fallen soldiers (I was bawling through it); the seemingly non-stop crowd support; the faces of Marines and volunteers at aid/water stations so encouraging–those are the memories that I'm choosing to keep.
The race was most definitely hard; it was the most challenging I've faced yet, but the Marine Corps Marathon is more than just a course– it's 26.2 miles of transfiguration, of renewal, of gratitude to those who experience pain beyond what one may ever experience during a race.
That's what I'll never forget.
———————————————————————————–
Thank you guys SO much for your words of encouragement. I was truly overwhelmed by your kindness via my Instagram and Facebook page before, during, and after the race. I'm so thankful to be a part of a community that is so supportive and so positive.
There were some other major highlights of my Marine Corps Marathon weekend that I'll be sharing with you in the next couple of days. Here's a teaser–I got to meet a certain somebody in person! 😀
❤ helly