Fun factoid fail. In my last post, I attempted to share a fun February fact but as my husband and 50in50marathonquest so kindly noted to me, there really wasn't anything special about it. I tried looking up where I had heard about my fail factoid but couldn't find it and there you go, another don't believe everything on the inter webs. BUT, February does start and end the same day which is not a common occurrence. (I felt I needed to give you something! 😀 ) My source: Wikepedia, lol!
Linking up again on this Friday morning with the DC Trifecta ladies Mar, Cynthia, and Courtney for the weekly Friday Five 🙂 I'm straying from their theme this week though, it being Valentine's Weekend and all ❤ , and instead writing about
5 Places I Would Love To Visit and Run in the United States
I'm a huge history buff and enjoy learning about our country and all the interesting places there are in it. And like a lot of American runners, I'd like to run a race in all 50 states; however, there are some specific places that I'd like to visit.
1. Marine Corps Marathon–Washington, D.C.
MCM was my dream/bucket list race and I got to do it in 2014. I distinctly remember putting my name in the lottery thinking there was no way I'd get in on the first try. Welp! 😀
This race encompasses so much of what I love. My dad was a Marine, the race takes you through so many awesome landmarks in our nation's capitol, and you experience something so amazingly awesome–beyond running marathon. It's really indescribable.
2. Mt. Rushmore–South Dakota
This is a landmark that fascinates so much for some reason. I'm not sure it's something that could/would be built today (for a variety of reasons) and I think it's incredible that it was done in the first place. Like, people made that!!! With their hands!!! (Duh Helly–I know, I know… lol)
The race I would run is the Deadwood Mickelson Trail Marathon. They have a Mt. Rushmore tour the day before (yay!) and the race is on a beautiful course with views I'm not accustomed to here in the desert. The elevation chart isn't horrible either.
I know I have an ultra in me somewhere. Not a long one, but maybe a 50k. There's a few I'd like to do but there's one in my state that just looks amazing. It's up in northern Arizona, Chinle, and the biggest thing I love is how much the race sticks to its roots and culture. From the get-go at packet pick-up, guests are asked to to brush off their shoes so that no foreign elements are introduced to the canyon. I love this aspect of respecting your surroundings and land that is special to so many people. Before the race, a Navajo prayer is said for runners; at the end, Navajo food is provided. This is a race that sells out in minutes and a few of my friends in my running club made the cut this year!!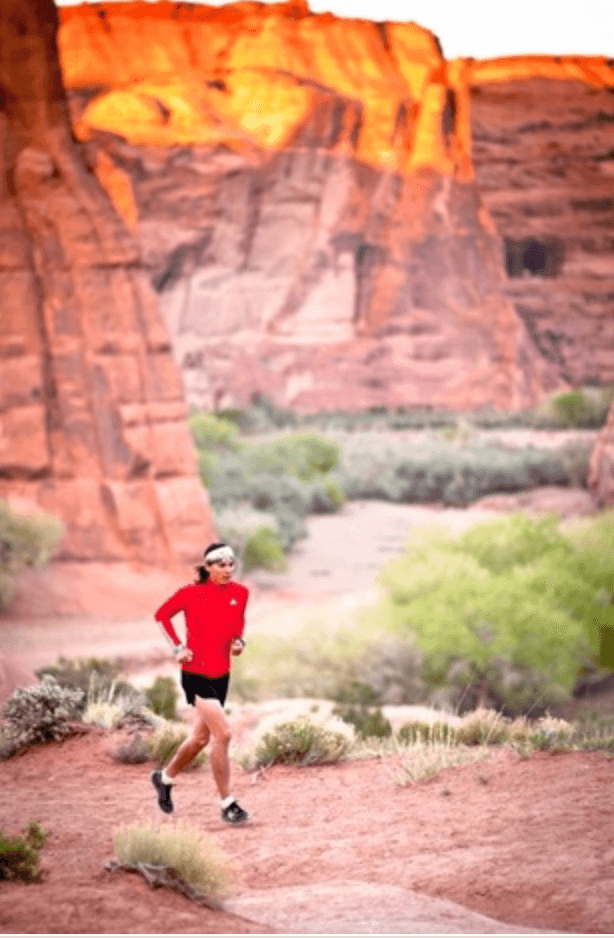 4. Anchorage Mayor's Marathon–Alaska
Kristen at Run Away With Me lives there and I LOVE seeing her pics. Besides wanting to see her, I'd love to run in some of Alaska's beauty. This marathon happens on the day closest to the summer solstice where there's maaaaybe 4 hours of nighttime darkness. And even then, it's not completely dark, right Kristen?
How cool does that sound??
5. I was wanting to choose a fifth but really, there are so many awesome races in this country. I'd love to do Big Sur in California, St. George in Utah, the Indy Mini in Indianapolis, Pike's Peak in Colorado, Grandma's Marathon in Minnesota…there's no shortage of good ones in the U.S.A. ❤
–Where in the United States would you like to race in?
–What's the best race in your country (if not stateside)?