It's crazy that I'm in the double digits of training. Week 10 had a hiccup at the end but I made it through relatively unscathed, lol!
Marathon Goal– 3:50
Marathon Pace/Tempo Runs– 8:45
Easy Runs–9:40-10:40
Long Runs–9:30
Monday, September 5th– 5 Easy Miles, 10:13 avg. pace
Easy miles around my neighborhood. I've been listening to music on my easy runs and I put in one of my favorite Spanish rock bands in Pandora. It's ended up being a great station for my easy runs because I just zone out and run an easy, relaxed pace. I don't have to to think about it and I never even look at my watch when I run.
Tuesday, September 6th– 0.5 mile WU, 4×1200 @7:30 (w/400R), 0.5 CD
I've been doing my speed work in the evening which means battling the heat, but I've found that I've still been able to hit the paces so it works. The downside is that I've neglected my warm ups and cool downs because of the way the route is laid out. As the training plan moves on from speed to strength runs on this day, I'm going to be more strict about getting a full mile in for each even if it means having to figure out a new route.
I wore a new pair of shorts for this run and they were shorter than what I usually wear. You can see from my runner's tan that it's a good inch from comfort zone, LOL. Anyway, I hit all the reps except one (but was still close 🙂 )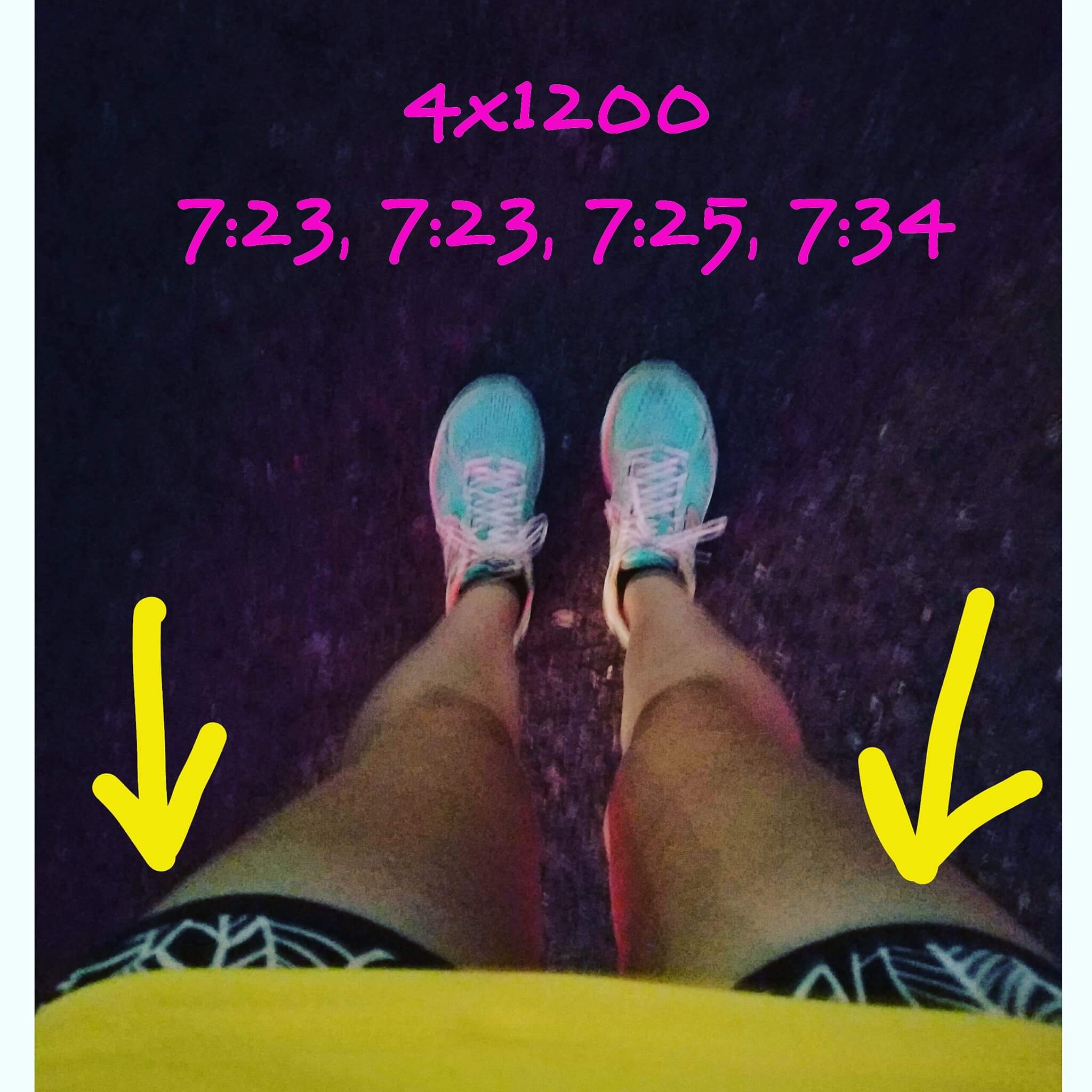 Wednesday, September 7th–Rest Day
It was a "rest day" but I'm in a Step into September challenge (10k steps a day) so I took the family to my group run's track day. I had already done my speed work the day before so I just ran around after my kids.
My son ran a 4×400 little workout for his FIRST MILE EVER!!
And my husband did his own speed workout (800s and 400s) using my watch (because I forgot to pack his). I kinda want to leave his stats in my profile 😀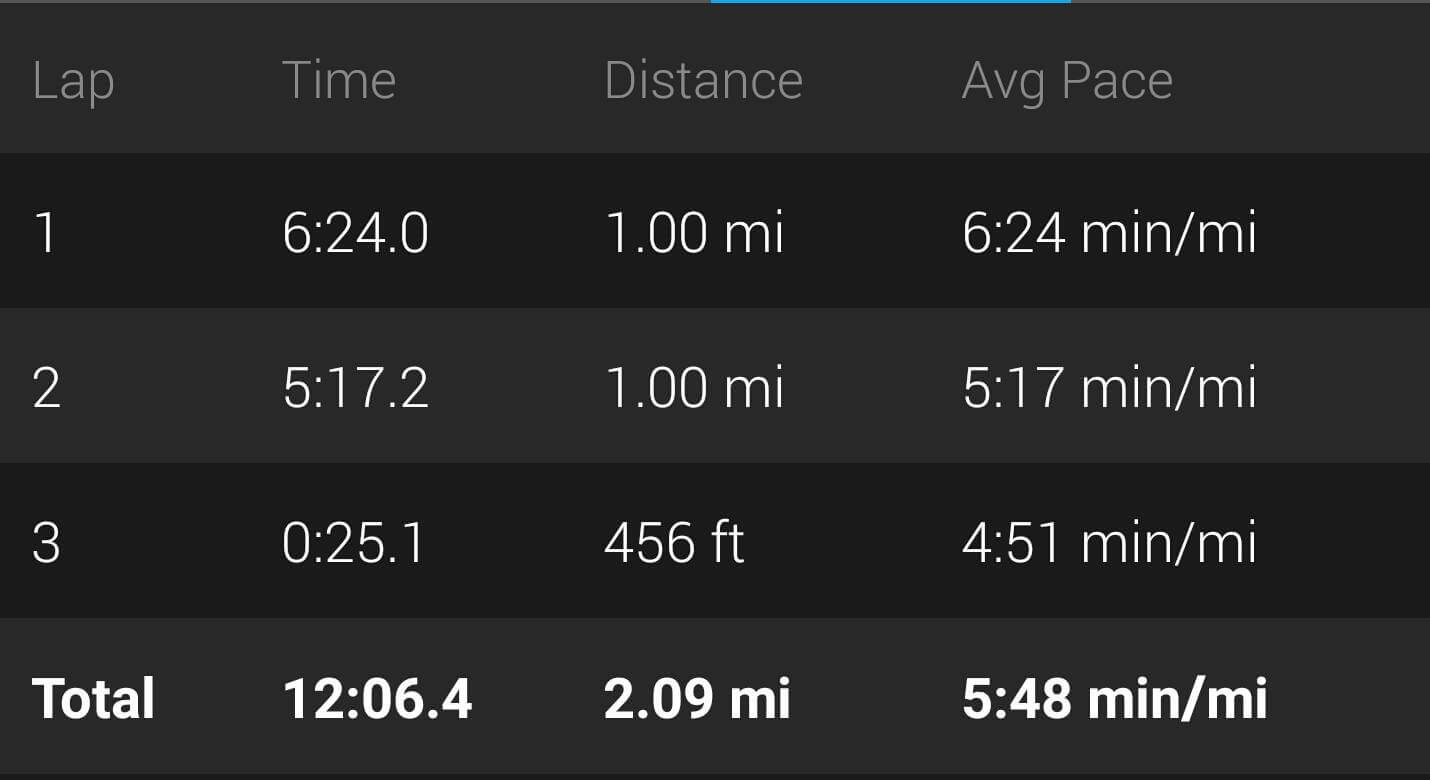 Thursday, September 8th– 1 mile WU, 8 Tempo miles @8:45, 1 mile CD
This was a CLOUD 9 run. I felt good the entire way and was so happy with my splits. They were beauties.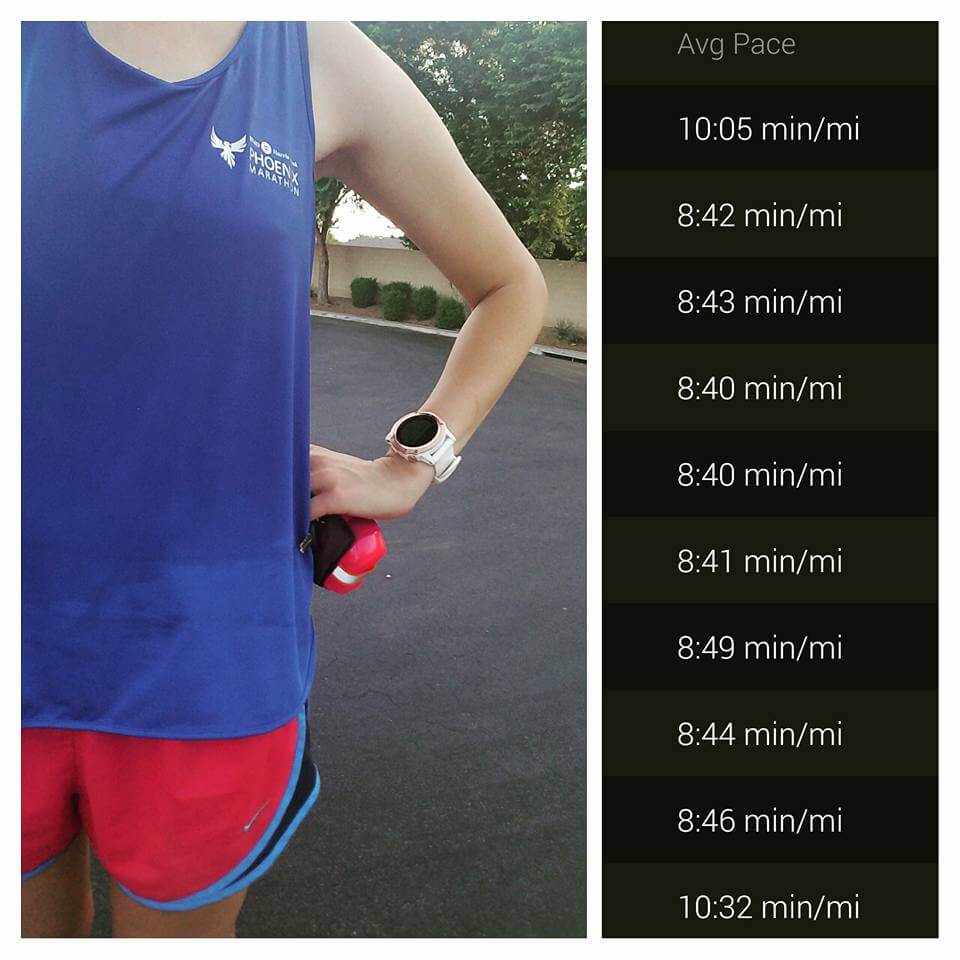 Friday, September 9th–5 Easy/Hill Miles, 9:44 avg. pace
It was a super early wake up for this run. I had to leave my house at 4 to get to the meet-up spot at 4:30. That meant a 3:30 alarm….oooof. The things we do for running.
Saturday, September 10th–5 Miles @11:10
Things went horrible south with this run. It was an important one as I was running/pacing my good friend Jen on her 20 miler (I was going to do 10 for my long run). But 2 miles in, I stopped abruptly and clutched my stomach. Jen immediately knew something was wrong because I never stop mid run like that.
My stomach was wreaking havoc and there was not a bathroom in sight. It was dark out (we started at 4:30 a.m.) and I thought we were about a quarter of a mile from a nearby park—but we weren't. It was still about a mile away.
I walked. Tried to run. Walked.
I told Jen and the others (thank goodness she had others with her) to go on without me. They would run for a while and then wait for me to catch up. I felt a little better after I used the restroom but with it being mile 3 of my friend's longest run of her training, I didn't want to mess things up for her so I told her I was going to walk home. It was closer than walking back to my car.
So at 5 in the morning, I walked/ran home feeling sick, sad, and defeated. I wanted so badly to be there for my friend.
Sunday, September 11th–11 Long Run Miles, 9:20 avg. pace
After hydrating and getting a really good night's sleep (finally), I woke up feeling a lot better. My husband got in his long run first and I went immediately after him.
I got in 3 miles solo as I ran to meet up with a friend, got in 6 with her, then I ran 2 miles to a nearby McDonald's where my family was having breakfast. It was a fun, and thankfully, easy and uneventful run.
Week 10 brought in 41 miles . I said good-bye to speed workouts and I'll be welcoming in strength runs this week with my first one tomorrow. Strength runs according to Hanson's are Race Pace minus 10 seconds….we'll see how that goes 😀
–How was your running week?
–Have you gotten sick mid-run? I keep telling myself that at least it wasn't during a race. I hope it DOESN'T happen during a race, lol!