I'm so excited as this is the first link up with the wonderful ladies of the DC Trifecta– Cynthia, Mar, and Courtney!!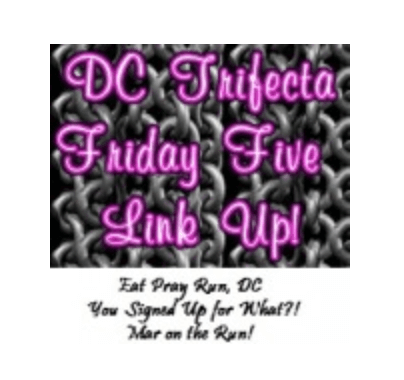 If you haven't checked out these ladies, you should! Each Friday these three host a link up with a different theme–all fun, all awesome. Why I've waited til now to join? No idea.
This Friday's theme is:
5 Things I Will Do This Summer
Here goes!
(in no particular order)
1. Marine Corps Marathon Training Starts!!
Yes, I'm actually really excited about this. I'm a schedule girl and love having something on the radar to look forward to. I've also recently started reading this
and will decide if it's something I'll want to try for this marathon. Have you read it? What are you thoughts?
2. No Soda!!
As you might already know, I started a 100 Days of Summer Challenge with my challenge being no soda.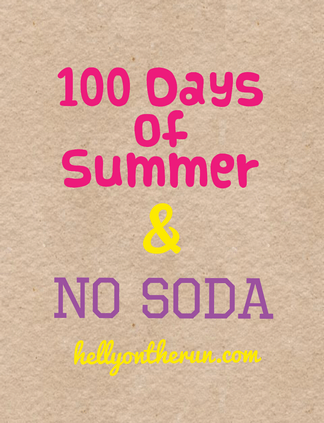 Day 6 and I'm going strong. I've been tested a few times, like when I refilled my mom's soda at Chipotle, but so far I've passed 🙂
3. Lesson Plan.
I mentioned a few weeks ago that I'll be headed back to work. I start early August and I'm really looking forward to it. Like I've said numerous times, I'm a planner and last summer after having my son in July, I took a year leave of absence to stay at home with the option to return if I wanted to the following year.
I'm so glad I left myself the option.
I've loved being home with my kids and am grateful I was able to have that opportunity. But I also want to see what being a working mom is like. I plan on working this upcoming school year and then deciding what my maybe more permanent place in life is as far as work is concerned. Luckily with teaching, I can go back when I can/want to.
4. Party Time!

OMG, my son turns one in July! I can't believe how time flies. I remember people telling me that once I have kids, to really cherish the moments because they grow up so fast. I used to secretly roll my eyes but it. is. truth.
We're having a birthday party for him beach themed and I can't wait!!
5. Gym Visits
With our crazy Arizona heat, I'll be making more gym visits to the treadmill. That means taking my kids to the gym daycare. We've done it a few times and they've been okay but only lasted about 30 minutes. Last week I took my daughter and she actually lasted more time! I'm hoping with more consistency they'll get used to it and let mommy get in a good workout 🙂
–What are some of YOUR summer plans??
Today is the last day of the Bondi Band giveaway!! A winner will be announced tomorrow morning. Click here to enter!