Well hello there Friday, how you doin'?
Hi everyone!! I'm linking up again with the DC Trifecta ladies Cynthia, Mar, and Courtney for their weekly Friday Five. Today's topic are fitness trends you're just not that into.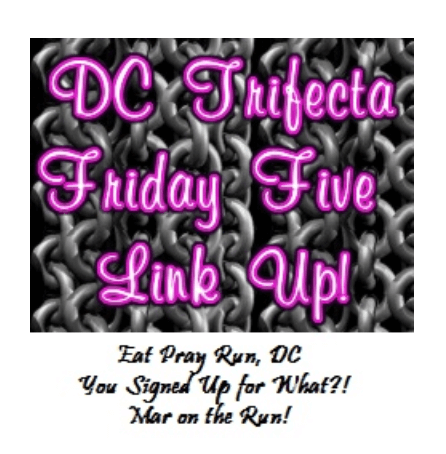 There's a few of those on my list and I've included 4, but I thought I add one trend that I am into as well:
1. Mud Runs
Even before the poop fiasco that caused severe eye damage to a woman, I was never into mud runs. It's just not my thing and not something you'll find me doing. Ever.
2. Taking Running Selfies
I have a few friends who take pretty awesome pictures of themselves running and have been asked how they do it since, well, they're running. I guess you prop your phone/camera and video play while you run, then snapshot it when you see a good angle?? I'm not entirely sure how it's done but I find it kind of a lot comical thinking of re-enacting myself running to get a picture. I'm already awkward as it is.
3. Plexxus, Shakeology, Herbal Life
Man, there's so many of these types of shake thingys, I can't keep track of them all or know what each one is all about. What I do know is that I like food. A lot. And not in liquid form.
4. Body Wraps
They may have worked for somebody, but I'm not interested.
5. Being Social <—–
This is a yes, most definitely. I'm all about joining/running with a group and/or keeping tabs with running friends online through social media–it makes training so much more fun!
Thank you for your encouragement and support on Wednesday's post regarding my fundraising 🙂 And shout out to Olivia @BalancingMommy and Allison @InvertedSneakers –Thank you for your donations! I hope everyone has a great weekend! ❤ , helly
–What do you think of my list? Had you heard about the poop fiasco?
–Is there a fitness "trend" you're just not that into?
–What fitness "trend" do you enjoy?
**Please know that these are my opinions and if you're into any of the things I noted, please do not take offense.